Ford Escape: Catalytic Converter
What Is the Catalytic Converter
The catalytic converter is part of your vehicle's emissions system and filters harmful pollutants from the exhaust gas.
Catalytic Converter Precautions
WARNING: Do not park, idle or drive your vehicle on dry grass or other dry ground cover. The emission system heats up the engine compartment and exhaust system, creating the risk of fire.
WARNING: The normal operating temperature of the exhaust system is very high. Never work around or attempt to repair any part of the exhaust system until it has cooled. Use special care when working around the catalytic converter. The catalytic converter heats up to a very high temperature after only a short period of engine operation and stays hot after the engine is switched off.
To avoid damaging the catalytic converter:
Do not crank the engine for more than 10 seconds at a time.
Do not run the engine with a spark plug lead disconnected.
Do not push-start or tow-start your vehicle. Use booster cables.
Use the correct fuel.
Do not switch the ignition off when your vehicle is moving.
Avoid running out of fuel.
Have the items listed in scheduled maintenance information performed according to the specified schedule.
Note: Do not make any unauthorized changes to your vehicle or engine. By law, vehicle owners and anyone who manufactures, repairs, or services a fleet of vehicles are not permitted to intentionally remove an emission control device or prevent it from working.
Catalytic Converter – Troubleshooting
Catalytic Converter – Warning Lamps
Your vehicle has an on-board diagnostics system that monitors the emission control system. If any of the following warning lamps illuminate, this may indicate that the on-board diagnostics system has detected an emission control system malfunction.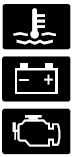 Continuing to drive your vehicle may cause reduced power or the engine to stop. Failure to respond to a warning lamp may cause damage that your vehicle Warranty may not cover. Have your vehicle checked as soon as possible.
Fuel Tank Capacity Advertised Capacity The advertised capacity is the maximum amount of fuel that you can add to the fuel tank when the fuel gauge indicates empty...
What Is the High Voltage Battery The high voltage battery is a highly sophisticated lithium ion battery system, used to store electrified energy to power the vehicle...
Other information:
Removal NOTE: Removal steps in this procedure may contain installation details. With the vehicle in NEUTRAL, position it on a hoist. Refer to: Jacking and Lifting - Overview (100-02 Jacking and Lifting, Description and Operation). Remove the retainers, release the tabs and remove the air cleaner intake duct pipe...
Symptom Chart: Suspension System Diagnostics in this manual assume a certain skill level and knowledge of Ford-specific diagnostic practices.REFER to: Diagnostic Methods (100-00 General Information, Description and Operation). Condition Actions Wander GO to Pinpoint Test A Front bottoming or riding low GO to Pinpoint T..