Ford Escape: Starting and Stopping the Engine / Ignition Switch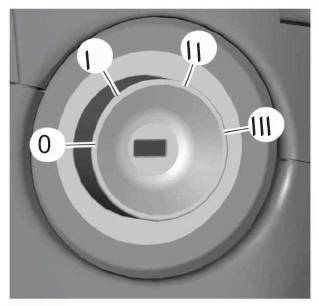 Switching the Ignition Off
Turn the key to position 0.
Switching the Ignition to Accessory Mode
Turn the key to position I. Electrical accessories, for example the radio, operate without the engine running.
Switching the Ignition On
Turn the key to position II. All electrical circuits and accessories are operational and the warning lamps and indicators illuminate.
Starting the Engine
Turn the key to position III. Release the key when the engine starts.
WARNING: Extended idling at high engine speeds can produce very high temperatures in the engine and exhaust system, creating the risk of fire or other damage...
Switching the Ignition Off When the ignition is on or in accessory mode, press the push button ignition switch once without your foot on the brake pedal...
Other information:
Special Tool(s) / General Equipment Resistance Spotwelding Equipment Spherical Cutter Hot Air Gun Air Body Saw 8 mm Drill Bit MIG/MAG Welding Equipment Spot Weld Drill Bit Locking Pliers Materials Name Specification Seam SealerTA-2-B, 3M™ 08308, LORD Fusor® 803DTM - Flexible Foam Repair3M™ 08463, LORD Fusor® 121 - ..
Removal NOTICE: Suspension fasteners are critical parts that affect the performance of vital components and systems. Failure of these fasteners may result in major service expense. Use the same or equivalent parts if replacement is necessary. Do not use a replacement part of lesser quality or substitute design. Tighten fasteners as specified. NOTE: Removal steps in this procedure may ..