Ford Escape: Keyless Entry / Locating the Keyless Entry Keypad. Keyless Entry Limitations
Locating the Keyless Entry Keypad
The keypad is near the driver window and illuminates when you touch it.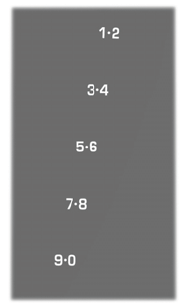 You can use the keypad to:
Lock or unlock the doors and liftgate.
Program and erase user codes.
Arm and disarm the anti-theft alarm.
Keyless Entry Limitations
Make sure your remote control is within 3 ft (1 m) from the front door handles and the tailgate.
The system could not function if:
The remote control remains stationary for about a minute.
The vehicle battery has no charge.
The remote control battery has no charge.
There is interference causing issues with the remote control frequencies.
The remote control is too close to metal objects or electronic devices, for example keys or a cell phone.
What Is the Master Access Code The master access code is a factory-set five-digit entry code. You can operate the keypad with the master access code at any time...
Other information:
WARNING: Do not stand directly over the kit while inflating the tire. If you notice any unusual bulges or deformations in the tire's sidewall during inflation, stop and call roadside assistance. WARNING: If the tire does not inflate to the recommended tire pressure within 15 minutes, stop and call roadside assistance...
Tire and Loading Label Information Example: Payload is the combined weight of cargo and passengers that your vehicle is carrying. The maximum payload for your vehicle appears on the Tire and Loading label. The label is either on the B-pillar or the edge of the driver door...