Ford Escape: Data Privacy / Settings Data
Your vehicle has electronic control units that have the ability to store data based on your personalized settings. The data is stored locally in the vehicle or on devices that you connect to it, for example, a USB drive or digital music player. You can delete some of this data and also choose whether to share it through the services to which you subscribe.
Comfort and Convenience Data
Data recorded includes, for example:
Seat and steering wheel position.
Climate control settings.
Radio presets.
Entertainment Data
Data recorded includes, for example:
Music, videos or album art.
Contacts and corresponding address book entries.
Navigation destinations.
This vehicle is equipped with an event data recorder. The main purpose of an event data recorder is to record, in certain crash or near crash-like situations, such as an airbag deployment or hitting a road obstacle; this data will assist in understanding how a vehicle's systems performed...
The modem has a SIM. The modem was enabled when your vehicle was built and periodically sends messages to stay connected to the cell phone network, receive automatic software updates and send vehicle-related information to us, for example diagnostic information...
Other information:
Activation NOTE: The procedure used to download the audio files varies, depending on the web browser used. Using a suitable web browser, download all of the diagnostic sound tracks to a suitable USB drive. 125Hz Sample 100Hz Sample 80Hz Sample 63Hz Sample 50Hz Sample 40Hz Sample ..
Hybrid Electric Vehicle (HEV)/Plug-In Hybrid Electric Vehicle (PHEV) If your vehicle becomes inoperable without access to wheel dollies or a vehicle transport trailer, it can be flat-towed with all wheels on the ground, regardless of the powertrain and transmission configuration, under the following conditions: Your vehicle is facing forward for towing in a forward direction. You shift ..
Categories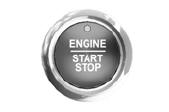 Switching the Ignition Off
When the ignition is on or in accessory mode, press the push button ignition switch once without your foot on the brake pedal.