Ford Escape: Steering Wheel
Adjusting the Steering Wheel
WARNING: Do not adjust the steering wheel when your vehicle is moving.
Note: Make sure that you are sitting in the correct position.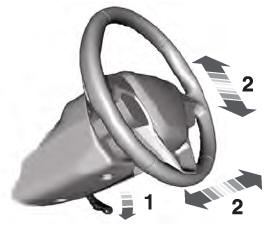 Unlock the steering column.
Adjust the steering wheel to the desired position.

Lock the steering column.
Horn

Press on the center of the steering wheel near the horn icon to activate the horn.
Switching the Heated Steering Wheel On and Off
(IF EQUIPPED)

To activate the heated steering wheel, press the button on the climate control unit.
On some vehicles, an indicator on the button illuminates when the heated steering wheel is on.
Note: A sensor regulates the temperature of the steering wheel.
Security – Information Messages Security – Frequently Asked Questions What should I do if there is any potential alarm problem with my vehicle? Take all remote controls to an authorized dealer if there is any potential alarm problem with your vehicle...
Other information:
Adaptive Cruise Control Indicators Illuminates when you switch adaptive cruise control on. The color of the indicator changes to indicate the system status. White indicates the system is on but inactive. Green indicates that you set the speed and the system is active. Switching From Adaptive Cruise Control to Cruise Control WARNING: Normal cruise control will not brake when your vehicle is ..
Opening the Hood Open the left-hand front door. Fully pull the hood release lever and let it completely retract.Note: This action releases the hood latch. Fully pull the hood release lever for a second time.Note: This action fully releases the hood. Open the hood.Note: There is no secondary hood release under the hood. Support the hood with the strut. Closing the Hood WARNING: Make sure ..