Ford Escape: Steering Wheel
Adjusting the Steering Wheel
WARNING: Do not adjust the steering wheel when your vehicle is moving.
Note: Make sure that you are sitting in the correct position.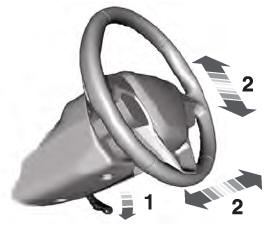 Unlock the steering column.
Adjust the steering wheel to the desired position.

Lock the steering column.
Horn

Press on the center of the steering wheel near the horn icon to activate the horn.
Switching the Heated Steering Wheel On and Off
(IF EQUIPPED)

To activate the heated steering wheel, press the button on the climate control unit.
On some vehicles, an indicator on the button illuminates when the heated steering wheel is on.
Note: A sensor regulates the temperature of the steering wheel.
Security – Information Messages Security – Frequently Asked Questions What should I do if there is any potential alarm problem with my vehicle? Take all remote controls to an authorized dealer if there is any potential alarm problem with your vehicle...
Other information:
The system delivers a driving experience through a suite of sophisticated electronic vehicle systems. These systems optimize steering, handling and powertrain response. This provides a single location to control multiple systems performance settings. Changing the drive mode changes the functionality of the following systems: Electric power-assisted steering system adjusts steering effor..
Liftgate – Warning Lamps Illuminates when the liftgate is not completely closed. Liftgate – Information Messages Liftgate – Frequently Asked Questions Why won't my power liftgate function? Make sure the transmission is in park (P), ensure nothing is obstructing the liftgate path and there is not excessive weight on the liftgate. If there are continued issues, the battery voltage may ..