Ford Escape: Maintenance / Adjusting the Headlamps
Vertical Aim Adjustment
The headlamps on your vehicle are properly aimed at the assembly plant. If your vehicle has been in an accident, the alignment of your headlamps should be checked by your authorized dealer.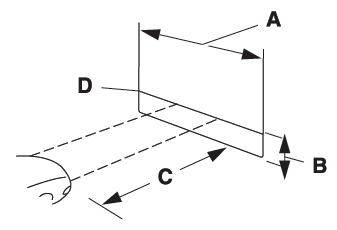 8 feet (2.4 meters)
Center height of lamp to ground
25 feet (7.6 meters)
Horizontal reference line
Park the vehicle directly in front of a wall or screen on a level surface, approximately 25 ft (7.6 m) away.
Measure the height of the headlamp bulb center from the ground and mark an 8 ft (2.4 m) horizontal reference line on the vertical wall or screen at this height.

Note: To see a clearer light pattern for adjusting, you may want to block the light from one headlamp when adjusting the other.

Switch on the low beam headlamps to illuminate the wall or screen and open the hood.

On the wall or screen you will observe a flat zone of high intensity light located at the top of the right hand portion of the beam pattern. If the top edge of the high intensity light zone is not at the horizontal reference line, the headlamp does need to be adjusted.

Locate the vertical adjuster on each headlamp. Using a Phillips #2 screwdriver, turn the adjuster either clockwise or counterclockwise in order to aim the headlamp. The horizontal edge of the brighter light should touch the horizontal reference line.
Close the hood and switch off the lamps.
Horizontal Aim Adjustment
Horizontal aim is not required for this vehicle and is non-adjustable.
WARNING: Batteries normally produce explosive gases which can cause personal injury. Therefore, do not allow flames, sparks or lighted substances to come near the battery...
Exterior Bulbs Exterior Bulb Specification Chart 1 To replace these lamps, see your authorized dealer. Changing a Headlamp Bulb WARNING: Make sure the bulbs have cooled down before removing them...
Other information:
Parking Aid Overview Parking Aid - Audible The available parking aid features depend on the vehicle trim level and options selected. The possible audio parking aid configurations are as follows: Rear parking aid Front and rear parking aid Front and rear parking aid, plus active park assist and the side sensing system (also known as flank guard) The rear parking aid ..
Engine Information NOTE: When repairing engines, all parts must be contamination free. If contamination/foreign material is present when repairing an engine, premature engine failure may occur. NOTE: Specifications show the expected minimum or maximum condition. Refer to the appropriate section in Group 303 for the specifications. NOTE: If a component fails to meet the specificati..