Ford Escape: Audio System / Audio System Precautions. Switching the Audio Unit On and Off. Selecting the Audio Source
Audio System Precautions
WARNING: Driving while distracted can result in loss of vehicle control, crash and injury. We strongly recommend that you use extreme caution when using any device that may take your focus off the road. Your primary responsibility is the safe operation of your vehicle. We recommend against the use of any hand-held device while driving and encourage the use of voice-operated systems when possible. Make sure you are aware of all applicable local laws that may affect the use of electronic devices while driving.
Listening to loud audio for long periods of time could damage your hearing.
Switching the Audio Unit On and Off

Press the button on the volume control.
Selecting the Audio Source
Press your preferred audio source.
Note: Available audio sources are listed along the top of the radio screen.
Playing or Pausing the Audio Source Press to pause playback. Press again to resume playback. Note: Not all sources can be paused. Adjusting the Volume Turn to adjust the volume...
Other information:
Audio source. Select to choose a different audio source. Presets. Swipe left to view more presets. You can access these options using the touchscreen or voice commands. Sources Press this button to select the source of media you want to listen to...
Cross Traffic Alert Precautions WARNING: Do not use the cross traffic alert system as a replacement for using the interior and exterior mirrors or looking over your shoulder before reversing out of a parking space. The cross traffic alert system is not a replacement for careful driving...
Categories
What Is the Master Access Code
The master access code is a factory-set five-digit entry code. You can operate the keypad with the master access code at any time. The master access code is on the owner's wallet card in the glove box and is available from an authorized dealer.
Displaying the Master Access Code
To display the factory-set code in the information display: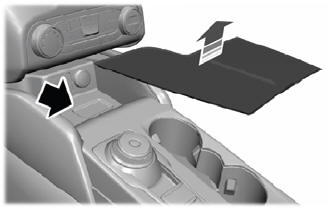 Remove the rubber mat. Insert the first programmed key in the backup slot. Press the push button ignition switch once and wait a few seconds. Press the push button ignition switch again and remove the key. Within 10 seconds, place a second programmed intelligent access key in the backup slot and press the push button ignition switch.