Ford Escape: Automatic Transmission - Automatic Transmission – HF45 / General Procedures - Transmission Fluid Level Check
Materials
Name
Specification
Motorcraft® MERCON® ULV Automatic Transmission Fluid
XT-12-QULV
WSS-M2C949-A,
MERCON® ULV

Check
Start the engine and allow to run for 1 minute. Turn engine off and wait 5 minutes.

With the vehicle in NEUTRAL, position it on a hoist.
Refer to: Jacking and Lifting - Overview (100-02 Jacking and Lifting, Description and Operation).

Remove the screws and the engine front undershield.

Rotate the steering wheel counter clockwise to access the transmission fluid leveling plug.

NOTE: The transmission fluid should be even with the bottom of the transmission fluid leveling plug hole.

Remove the transmission fluid leveling plug and check the transmission fluid level.

Adding Additional Transmission Fluid
NOTE: The following procedure uses the Mityvac MVA7212 ATF Refill System.
Install the adapter into transmission fluid leveling plug hole hand tight.

Fill the transmission with transmission fluid.


Fill the Mityvac MVA7212 with transmission fluid.
Material: Motorcraft® MERCON® ULV Automatic Transmission Fluid / XT-12-QULV (WSS-M2C949-A, ) (MERCON® ULV)

Connect the Mityvac MVA7212.


Follow the manufacturer instructions to dispense the fluid into the transmission.

Release the pressure and remove the Mityvac MVA7212. Allow all excess fluid to drain into a pan.

Install the transmission fluid leveling plug.
Torque: 26 lb.ft (35 Nm)
Install the engine front undershield and the screws.

Categories
WARNING: Always ride and drive with your seatback upright and properly fasten your seatbelt. Fit the lap portion of the seatbelt snugly and low across the hips. Position the shoulder portion of the seatbelt across your chest. Pregnant women must follow this practice. See the following figure.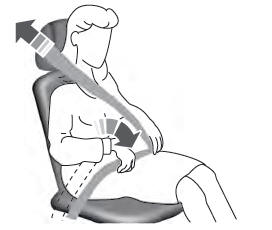 Copyright © 2023 www.fordescape4.com