Ford Escape: Charging Your Vehicle - Plug- In Hybrid Electric Vehicle (PHEV) / Charging Equipment
Read all the instructions before using this product.
Supervise this device when in use around children.
Do not put fingers into the electric vehicle connector.
Do not use this product if the flexible power cord or electric vehicle cable has broken insulation, or any other signs of damage.
Do not use this product if the enclosure or the electric vehicle connector is broken, cracked, open, or shows any other indication of damage.
Note: Ground this product. If it malfunctions or breaks down, grounding provides a path of least resistance for electric current to reduce the risk of electric shock. This product comes with a cord having an equipment grounding conductor and a grounding plug. Make sure you plug it into an appropriate outlet that is properly installed and grounded in accordance with all local codes and ordinances.
Note: You need to plug the convenience cord into a dedicated outlet.
Note: Firmly fit the AC wall plug into the AC outlet. If the connection feels loose, worn or the AC outlet is damaged, please have a qualified electrician replace the AC outlet. Using a convenience cord with a worn outlet could cause burns, property damage and increase the risk of electric shock.
Note: Do not use the 120 volt convenience cord with an extension cord, two-prong adapter, surge protector, timer or other adapter.
Convenience Cord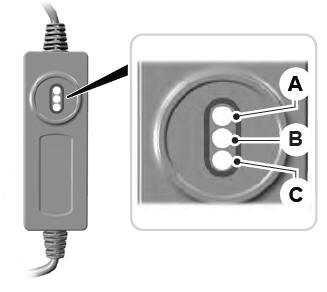 Power.
Fault.
Check Outlet.
CAUTION: TO REDUCE THE RISK OF FIRE- Use a three-prong AC outlet that is properly grounded, 15-20 amps or greater, and in good condition. Use a dedicated line. You cannot have other appliances connected to the same circuit. If you do not use a dedicated circuit, the circuit breaker could trip or open. If you do not have a dedicated circuit, contact a licensed professional electrician for proper installation.
Note:Make sure the electrical source meets the requirements for the high-voltage batteries to charge.
Make sure that the convenience cord is completely unwrapped before charging. Always plug the cord into the AC outlet before connecting the charged coupler into the charge port on your vehicle.
Note:When you plug the convenience cord into an outlet, use the following table to determine your vehicle charge status. If the power indicator light is off after plugging in the convenience cord, use a different outlet.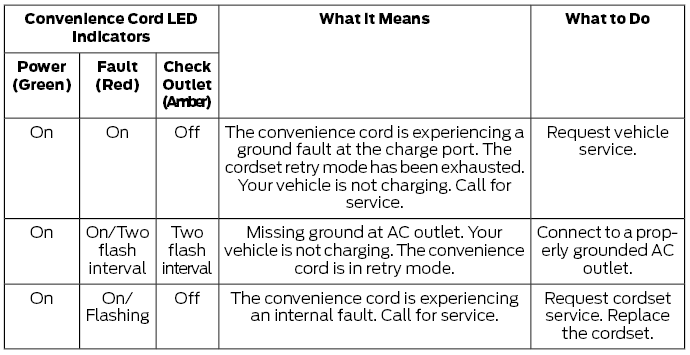 Note: If charging for your plug-in vehicle fails, please call the Customer Relationship Center, or click on Call for support or Live chat at our website.
Moving and Storage Instructions
Note: Do not hold the convenience cord by the flexible power cable.
Make sure that you completely wrap the convenience cord after charging.
When complete, replace the convenience cord in the luggage compartment.
Note:Store the convenience cord in a clean, dry place between the temperature of -39.9–193.9°F (-40–90°C).