Ford Escape: Pre-Collision Assist / Locating the Pre-Collision Assist Sensors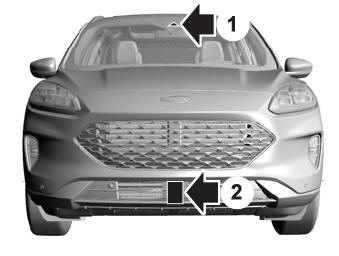 Camera.
Radar sensor (if equipped).
If a message regarding a blocked sensor or camera appears in the information display, something is obstructing the radar signals or camera images. The radar sensor is behind the fascia cover in the center of the lower grille. With a blocked sensor or camera, the system may not function, or performance may reduce.
Note: Proper system operation requires a clear view of the road by the camera. Repair any windshield damage in the area of the camera's field of view.
Note: If something hits the front end of your vehicle or damage occurs and your vehicle has a radar sensor, the radar sensing zone could change. This could cause missed or false vehicle detections. Have your vehicle serviced to have the radar checked for proper coverage and operation.
Note: If your vehicle detects excessive heat at the camera or a potential misalignment condition, a message could display in the information display indicating temporary sensor unavailability. When operational conditions are correct, the message deactivates. For example, when the ambient temperature around the sensor decreases or the sensor recalibrates successfully.
You cannot switch the system off. Adjusting the Pre-Collision Assist Settings You can adjust the following settings by using the touchscreen controls in the pre-collision assist menu: Change alert and distance alert sensitivity to one of three possible settings...
What Is Distance Indication Distance indication displays the gap between your vehicle and the vehicle ahead of you. Note: The graphic does not display if you switch on cruise control or adaptive cruise control...
Other information:
Airbag Precautions WARNING: Airbags do not inflate slowly or gently, and the risk of injury from a deploying airbag is the greatest close to the trim covering the airbag module. WARNING: All occupants of your vehicle, including the driver, should always properly wear their seatbelts, even when an airbag supplemental restraint system is provided...
Sensitive Locking Mode What is Sensitive Locking Mode Sensitive locking mode is a seatbelt retractor feature that allows shoulder belt length adjustment according to your movements and locking in response to vehicle movement. How Does Sensitive Locking Mode Work If the driver suddenly brakes, turns a corner sharply, or the vehicle receives an impact of about 5 mph (8 km/h) or more, the seat..