Ford Escape: Evaporative Emissions / Description and Operation - Evaporative Emissions - Overview
Overview
The EVAP system prevents hydrocarbon emissions from entering the atmosphere by storing fuel vapors and routing the vapors to the engine to be consumed during normal engine operation.
The EVAP system consists of:
EVAP canister
EVAP canister purge valve
Fuel Tank Pressure (FTP) sensor and tube
Easy Fuel™ (capless) fuel tank filler pipe
Fuel vapor vent valve (FVVV) / Refueling valve (RV)
Fuel tank isolation valve (FTIV) / Tank pressure control (TPC)
EVAP leak detection pump
System Operation System Diagram Item Description 1 Intake manifold 2 EVAP canister purge valve 3 Fresh air hose 4 EVAP leak detection pump 5 EVAP canister 6 Fuel tank 7 Fuel pump and sender unit 8 Fuel tank isolation valve (also known as Tank Pressure Control Valve - TPC ) ..
Other information:
Argentina Brazil China Djibouti European Union EU Ghana Jamaica Malaysia RBAB/57H/0318/S(18-0624) Mauritania Moldova Morocco Pakistan Paraguay NR: 2017-12-I-0000413 Serbia Singapore South Africa South Korea MSIP-CMM-pAs-FA-170-BCAR-HS Taiwan Ukraine United Arab Emirates (U.A.E.) United States and Canada WARNING: Changes or modifications not expressively approved by the party ..
WARNING: When refueling always shut the engine off and never allow sparks or open flames near the fuel tank filler valve. Never smoke or use a cell phone while refueling. Fuel vapor is extremely hazardous under certain conditions. Avoid inhaling excess fumes. WARNING: The fuel system may be under pressure. If you hear a hissing sound near the fuel filler inlet, do not refuel until the sou..
Categories
WARNING: Always ride and drive with your seatback upright and properly fasten your seatbelt. Fit the lap portion of the seatbelt snugly and low across the hips. Position the shoulder portion of the seatbelt across your chest. Pregnant women must follow this practice. See the following figure.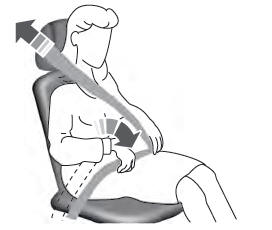 Copyright © 2022 www.fordescape4.com