Ford Escape: Automatic Transmission / Grade Assist - Hybrid Electric Vehicle (HEV)
What Is Grade Assist
Provides additional grade braking with a combination of engine motoring and high-voltage battery charging to help maintain vehicle speed when descending a grade.
Switching Grade Assist On and Off
Press the grade assist button to activate grade assist. The grade assist lamp appears in the instrument cluster. Press the button again to switch it off.
Your vehicle determines the amount of engine motoring and high-voltage battery charging. You could notice the engine speed increasing and decreasing to help maintain your vehicle speed when descending a slope.
Grade Assist Indicators
What Is Automatic Return to Park (P) Your vehicle shifts into park (P) if you attempt to exit your vehicle without the transmission in park (P). How Does Automatic Return to Park (P) Work Your vehicle shifts into park (P) when your vehicle is stationary and any of the following occur: You switch the vehicle off...
Manual Park Release - Gasoline What Is Manual Park Release Manual park release is used to move your transmission from the park (P) position in the event of an electrical malfunction or emergency...
Other information:
Transmission Overview The Electronically Controlled Continuously Variable Transmission (eCVT) has the following internal components: Traction Motor Generator/Starter High voltage terminals Pump and filter assembly Park lock actuator TFT sensor Planetary carrier Differential carrier High voltage inductor Item Description 1 ..
Overview Before beginning any service procedure in this manual, refer to health and safety warnings in section 100-00 General Information. Failure to follow this instruction may result in serious personal injury. WARNING: Before servicing any tire, ask the customer if anyone injected a tire sealant into the tire. Tire sealants may be flammable and can burn or explode if exposed..
Categories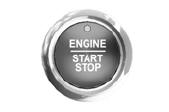 Switching the Ignition Off
When the ignition is on or in accessory mode, press the push button ignition switch once without your foot on the brake pedal.