Ford Escape: Cross Traffic Alert / How Does Cross Traffic Alert Work
Cross Traffic Alert detects vehicles that approach at a speed between 4–37 mph (6–60 km/h). Coverage decreases when the sensors are partially, mostly or fully obstructed.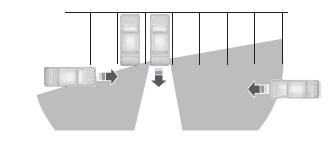 The sensor on the left-hand side is only partially obstructed and zone coverage on the right-hand side is maximized.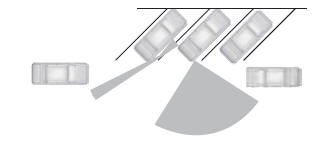 Zone coverage also decreases when parking at narrow angles. The sensor on the left-hand side is mostly obstructed and zone coverage on that side is severely reduced.
Note: Slowly reversing helps increase the coverage area and effectiveness.
Cross Traffic Alert Precautions WARNING: Do not use the cross traffic alert system as a replacement for using the interior and exterior mirrors or looking over your shoulder before reversing out of a parking space...
Other information:
Stopping the Liftgate Movement Note: Do not apply sudden excessive force to the liftgate while it is in motion. This could damage the power liftgate and its components. Note: Selections will vary depending on region or options. You can stop the liftgate movement by doing any of the following: Pressing the outside liftgate control button...
If you switch the lane keeping system on, a graphic with lane markings appears in the information display. When you switch the system off, the lane marking graphics do not display. Note: The overhead vehicle graphic may still display if adaptive cruise control is enabled...