Ford Escape: Liftgate - Vehicles With: Power Liftgate / Setting the Liftgate Opening Height
Open the liftgate.
Stop the liftgate movement by pressing the control button on the liftgate when it reaches the desired height.

Note: Once the liftgate stops moving, you can manually move it to the desired height.

Press and hold the control button on the liftgate until a tone sounds, indicating programming is complete.

Note: You can only use the liftgate control button to program the height.

Note: You cannot program the height if the liftgate position is too low.

The power liftgate now opens at the programmed height. To change the programmed height, repeat the steps.

Note: You can fully open the liftgate by manually pushing it upward to the maximum open position if it opens in a lower position.

Note: The system recalls the new programmed height until you reprogram it, even if you disconnect the battery.
Categories
WARNING: Always ride and drive with your seatback upright and properly fasten your seatbelt. Fit the lap portion of the seatbelt snugly and low across the hips. Position the shoulder portion of the seatbelt across your chest. Pregnant women must follow this practice. See the following figure.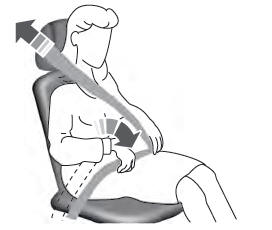 Copyright © 2023 www.fordescape4.com