Ford Escape: Wipers and Washers / Wipers and Washers – Troubleshooting
Wipers and Washers – Warning Lamps

Illuminates when the windshield washer fluid is low.
Wipers and Washers – Frequently Asked Questions
Why are there streaks and smears on the windshield?
The wiper blades could be dirty, worn or damaged. Check the wiper blades. If the wiper blades are dirty, clean them with washer fluid or water applied with a soft sponge or cloth. If the wiper blades are worn or damaged, install new ones.
Washer Precautions WARNING: If you operate your vehicle in temperatures below 41°F (5°C), use washer fluid with antifreeze protection. Failure to use washer fluid with antifreeze protection in cold weather could result in impaired windshield vision and increase the risk of injury or accident...
Other information:
Special Tool(s) / General Equipment Tie Rod End Remover Transmission Jack Materials Name Specification Motorcraft® Metal Brake Parts CleanerPM-4-A, PM-4-B, APM-4-C - Removal NOTICE: Suspension fasteners are critical parts that affect the performance of vital components and systems. Failure of these fasteners may result in major service expense. Use th..
Automatic Transmission Precautions WARNING: When your vehicle is stationary, keep the brake pedal fully pressed when shifting gears. Failure to follow this instruction could result in personal injury, death or property damage. WARNING: Do not apply the brake pedal and accelerator pedal simultaneously. Applying both pedals simultaneously for more than a few seconds will limit power, which ..
Categories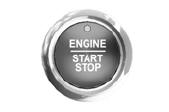 Switching the Ignition Off
When the ignition is on or in accessory mode, press the push button ignition switch once without your foot on the brake pedal.