Ford Escape: Wipers and Washers / Wipers and Washers – Troubleshooting
Wipers and Washers – Warning Lamps

Illuminates when the windshield washer fluid is low.
Wipers and Washers – Frequently Asked Questions
Why are there streaks and smears on the windshield?
The wiper blades could be dirty, worn or damaged. Check the wiper blades. If the wiper blades are dirty, clean them with washer fluid or water applied with a soft sponge or cloth. If the wiper blades are worn or damaged, install new ones.
Washer Precautions WARNING: If you operate your vehicle in temperatures below 41°F (5°C), use washer fluid with antifreeze protection. Failure to use washer fluid with antifreeze protection in cold weather could result in impaired windshield vision and increase the risk of injury or accident...
Other information:
Removal NOTE: Removal steps in this procedure may contain installation details. NOTE: If installing a new all-wheel drive module, it is necessary to upload the module configuration information to the scan tool prior to removing the module. This information must be downloaded into the new all-wheel drive module after installation. Using a diagnostic scan tool, begin the PMI process for ..
Gate Operator / Canadian Programming Canadian radio-frequency laws require transmitter signals to "time-out" (or quit) after several seconds of transmission – which may not be long enough for HomeLink to pick up the signal during programming. Similar to this Canadian law, some U.S. gate operators "time-out" in the same manner. Note: If programming a garage door opener or gate ope..
Categories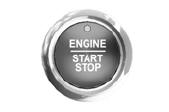 Switching the Ignition Off
When the ignition is on or in accessory mode, press the push button ignition switch once without your foot on the brake pedal.