Ford Escape: Audio System / AM/FM Radio
AM/FM Radio Limitations
The further you travel from an AM or FM station, the weaker the signal and the weaker the reception.
Hills, mountains, tall buildings, bridges, tunnels, freeway overpasses, parking garages, dense tree foliage and thunderstorms can interfere with the reception.
When you pass a ground-based broadcast repeating tower, a stronger signal may overtake a weaker one and result in the audio system muting.
Selecting a Radio Station
Manually Selecting a Radio Station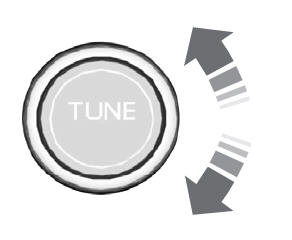 Turn to search through the radio frequency band.
Using Direct Tune
Press Direct Tune to open the number pad.
Enter the station you prefer.
Note: You can only enter a valid station for the audio source you are currently listening to.
Using Seek

Press either button. The system stops at the first station it finds in that direction.
Using the Station List
Press Browse.
Note: Available on FM radio only.
Press a station.