Ford Escape: Child Safety / Child Restraints
Child Restraint Position Information
Install the child restraint tightly against the vehicle seat. It may be necessary to lift or remove the head restraint.
Rear Facing Child Restraints

Forward Facing Child Restraints

Child Restraints Recommendation
You are required by law to properly use child restraints for infants and toddlers in the United States, Canada and Mexico.
Many states and provinces require that small children use approved booster seats until they reach age eight, a height of 57 in (1.45 m) tall, or 80 lb (36 kg). Check your local and state or provincial laws for specific requirements about the safety of children in your vehicle.
When possible, properly restrain children 12 years of age and under in a rear seating position of your vehicle. Accident statistics suggest that children are safer when properly restrained in the rear seating positions than in a front seating position.
When installing a rear facing child restraint, adjust the vehicle seats to avoid interference between the child restraint and the vehicle seat in front of the child restraint.
Other information:
System Operation Exhaust Gas Recirculation (EGR) Systems The EGR system controls the NOX emissions. Small amounts of exhaust gases are recirculated back into the combustion chamber to mix with the air to fuel charge. The combustion chamber temperature is reduced, lowering NOX emissions Exhaust Gas Recirculation (EGR) System — Differential Pressure Feedback The EGR system consists o..
Special Tool(s) / General Equipment 414-010Leak Test Adapter 414-011Leak Test Adapter 414-012Leak Test Adapter 414-013Leak Test Adapter 414-014Leak Test Adapter 414-015Leak Test Adapter 414-022Adapter, Leak Test Leak detection NOTE: This test is meant to be a secondary check after a service procedure is performed on the high voltage batt..
Categories
Locating the Under Hood Fuse Box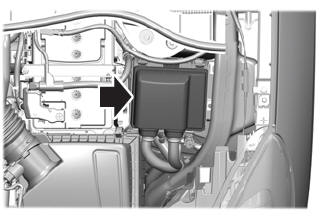 Accessing the Under Hood Fuse Box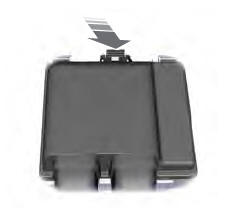 Pull the latch toward you and remove the top cover.