Ford Escape: Child Safety / Child Restraints
Child Restraint Position Information
Install the child restraint tightly against the vehicle seat. It may be necessary to lift or remove the head restraint.
Rear Facing Child Restraints

Forward Facing Child Restraints

Child Restraints Recommendation
You are required by law to properly use child restraints for infants and toddlers in the United States, Canada and Mexico.
Many states and provinces require that small children use approved booster seats until they reach age eight, a height of 57 in (1.45 m) tall, or 80 lb (36 kg). Check your local and state or provincial laws for specific requirements about the safety of children in your vehicle.
When possible, properly restrain children 12 years of age and under in a rear seating position of your vehicle. Accident statistics suggest that children are safer when properly restrained in the rear seating positions than in a front seating position.
When installing a rear facing child restraint, adjust the vehicle seats to avoid interference between the child restraint and the vehicle seat in front of the child restraint.
Other information:
Special Tool(s) / General Equipment Wheel Alignment System Adjustment NOTE: Make sure that the vehicle is standing on a level surface. NOTE: Before carrying out a toe adjustment, check the tires for the correct pressure. Inspect the tires for incorrect wear or damage. Inspect the suspension for wear or damage. Using alignment equipment and the manufacturer's instr..
Engine Information NOTE: When repairing engines, all parts must be contamination free. If contamination/foreign material is present when repairing an engine, premature engine failure may occur. NOTE: Specifications show the expected minimum or maximum condition. Refer to the appropriate section in Group 303 for the specifications. NOTE: If a component fails to meet the specificati..
Categories
Locating the Under Hood Fuse Box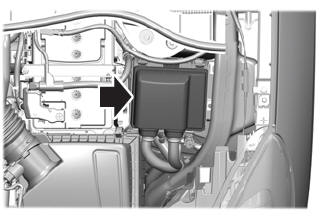 Accessing the Under Hood Fuse Box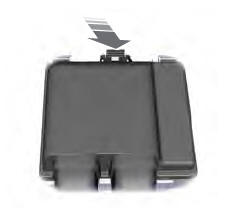 Pull the latch toward you and remove the top cover.