Ford Escape: Child Safety / Child Safety Locks
WARNING: You cannot open the rear doors from inside if you have put the child safety locks on.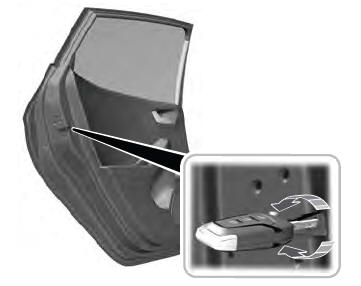 A child safety lock is on the rear edge of each rear door. You must switch the child safety lock separately on each door.
Left-Hand Side
Turn the key clockwise to switch the child lock on and counterclockwise to switch it off.
Right-Hand Side
Turn the key counterclockwise to switch the child lock on and clockwise to switch it off.
Use a belt-positioning booster seat for children who have outgrown or no longer properly fit in a child restraint and meet the following criteria. Generally children who are less than 57 in (1...
Other information:
General Hints Note: Prolonged use of recirculated air may cause the windows to fog up. Note: You may feel a small amount of air from the footwell air vents regardless of the air distribution setting. Note: To reduce humidity build-up inside your vehicle, do not drive with the system switched off or with recirculated air always switched on. Note: Do not place objects under the front seats as..
Special Tool(s) / General Equipment 100-002 (TOOL-4201-C) Holding Fixture with Dial Indicator Gauge 303-507Timing Peg, Crankshaft TDCTKIT-2001N-FLMTKIT-2001N-ROW Check Install Special Service Tool: 303-507 Timing Peg, Crankshaft TDC. Rotate the crankshaft slowly clockwise until the crankshaft balance weight is up against the Crankshaft TDC Tim..