Ford Escape: Module Communications Network / Description and Operation - Communications Network - Overview
Overview
Multiplexing is a method of sending 2 or more signals simultaneously over a single circuit. Multiplexing allows 2 or more electronic modules (nodes) to communicate over a twisted wire pair [data (+) and data (-)] network. The information or messages that can be communicated on these wires consists of commands, status or data. Multiplexing reduces the weight of the vehicle by reducing the number of redundant components and electrical wiring.
The vehicle has 2 module communication networks connected to the DLC , located under the instrument panel. The communication networks are:
The vehicle has 4 or 5 (optional) communication networks that do not communicate directly with the diagnostic scan tool. The GWM translates the messages on these 4 or 5 (optional) networks and transfers the signals to the DIAG 1 and DIAG 2 circuits at the DLC . Messages communicated on the HS-CAN1 are communicated to the DIAG 1 connection, all other networks are translated to the DIAG 2 connection at the DLC . The communication networks are:
HS-CAN1
HS-CAN2
HS-CAN3
HS-CAN4 (optional)
MS-CAN
System Operation System Diagram NOTE: For vehicles equipped with pre-collision assist, the CCM does not communicate directly on the HS-CAN2 . The CCM communicates with the IPMA on a private CAN , and the IPMA communicates on the HS-CAN2 ...
Other information:
Removal WARNING: The Tire Pressure Monitoring System (TPMS) sensor battery may release hazardous chemicals if exposed to extreme mechanical damage. If these chemicals contact the skin or eyes, flush immediately with water for a minimum of 15 minutes and get prompt medical attention...
Diagnostic Trouble Code (DTC) Chart Diagnostics in this manual assume a certain skill level and knowledge of Ford-specific diagnostic practices. REFER to: Diagnostic Methods (100-00 General Information, Description and Operation). NOTE: Network communication or missing network DTCs may result from intermittent concerns, such as damaged wiring or low battery voltage occurrences...
Categories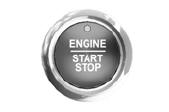 Switching the Ignition Off
When the ignition is on or in accessory mode, press the push button ignition switch once without your foot on the brake pedal.