Ford Escape: Maintenance / Opening and Closing the Hood
Opening the Hood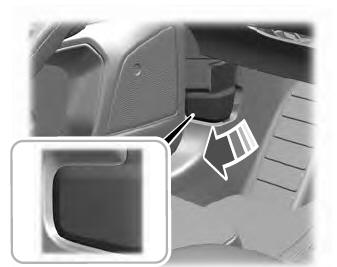 Open the left-hand front door.
Fully pull the hood release lever and let it completely retract.

Note: This action releases the hood latch.

Fully pull the hood release lever for a second time.

Note: This action fully releases the hood.

Open the hood.

Note: There is no secondary hood release under the hood.

Support the hood with the strut.
Closing the Hood
WARNING: Make sure that you fully latch the hood before driving. Failure to follow this instruction could result in personal injury or death.
Remove the strut from the catch and secure it correctly in the clip.
Lower the hood and allow it to drop under its own weight for the last 10–14 in (25–35 cm).
Warning Lamps and Indicators

This lamp illuminates when the ignition is on and the hood is not completely closed.
Information Messages

Service your vehicle regularly to help maintain its roadworthiness and resale value. There is a large network of authorized dealers that are there to help you with their professional servicing expertise...
Windshield washer fluid. See Adding Washer Fluid. Engine coolant reservoir. See Checking the Coolant. Engine oil dipstick. See Engine Oil Dipstick Overview...
Other information:
What Is the High Voltage Battery The high voltage battery is a highly sophisticated lithium ion battery system, used to store electrified energy to power the vehicle. High Voltage Battery Precautions WARNING: This battery pack should only be serviced by an authorized electric vehicle technician...
Tire Pressure Monitoring System – Warning Lamps The low tire pressure warning lamp has combined functions, as it warns you when your tires need air, and when the system is no longer capable of functioning as intended. Tire Pressure Monitoring System – Information Messages ..