Ford Escape: Fuel and Refueling / Fuel and Refueling Precautions
WARNING: Do not overfill the fuel tank. The pressure in an overfilled tank may cause leakage and lead to fuel spray and fire.
WARNING: The fuel system may be under pressure. If you hear a hissing sound near the fuel filler inlet, do not refuel until the sound stops. Otherwise, fuel may spray out, which could cause serious personal injury.
WARNING: Fuels can cause serious injury or death if misused or mishandled.
WARNING: Fuel may contain benzene, which is a cancer-causing agent.
WARNING: When refueling always shut the engine off and never allow sparks or open flames near the fuel tank filler valve. Never smoke or use a cell phone while refueling. Fuel vapor is extremely hazardous under certain conditions. Avoid inhaling excess fumes.
WARNING: Read and follow all the instructions on the pump island.
Follow these guidelines when refueling:
Extinguish all smoking materials and any open flames before refueling your vehicle.
Switch the engine off before refueling.
Automotive fuels can be harmful or fatal if swallowed. Fuel is highly toxic and if swallowed can cause death or permanent injury. If fuel is swallowed immediately call a physician, even if no symptoms are immediately apparent. The toxic effects of fuel may not be apparent for hours.
Avoid inhaling fuel vapors. Inhaling fuel vapor can lead to eye and respiratory tract irritation. In severe cases, excessive or prolonged breathing of fuel vapor can cause serious illness and permanent injury.
Avoid getting fuel in your eyes. If you splash fuel in your eyes, immediately remove contact lenses, if worn, flush with water for 15 minutes and seek medical attention. Failure to seek proper medical attention could lead to permanent injury.
Fuels can be harmful if absorbed through the skin. If you splash fuel on your skin, clothing or both, promptly remove contaminated clothing and thoroughly wash your skin with soap and water. Repeated or prolonged skin contact causes skin irritation.
Be particularly careful if you are taking Antabuse or other forms of Disulfiram for the treatment of alcoholism. Breathing fuel vapors could cause an adverse reaction, serious personal injury or sickness. Immediately call a physician if you experience any adverse reactions.
Selecting the Correct Fuel Choosing the Right Fuel Your vehicle operates on regular unleaded gasoline with a minimum pump (R+M)/2 octane rating of 87...
Other information:
What Is Automatic Return to Park (P) Your vehicle shifts into park (P) if you attempt to exit your vehicle without the transmission in park (P). How Does Automatic Return to Park (P) Work Your vehicle shifts into park (P) when your vehicle is stationary and any of the following occur: You switch the vehicle off...
WARNING: Position the seatbelt height adjuster so that the seatbelt rests across the middle of your shoulder. Failure to adjust the seatbelt correctly could reduce its effectiveness and increase the risk of injury in a crash. Press the button and slide the height adjuster up or down...
Categories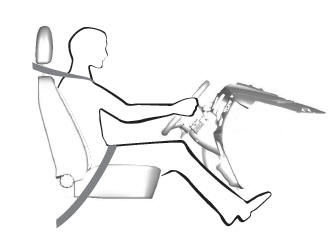 When you use them properly, the seat, head restraint, seatbelt and airbags will provide optimum protection in the event of a crash.