Ford Escape: Blind Spot Information System / How Does Blind Spot Information System Work. Blind Spot Information System Precautions. Blind Spot Information System Limitations
How Does Blind Spot Information System Work
Blind spot information system uses sensors on both sides of your vehicle, detecting rearward from the exterior mirrors to approximately 13 ft (4 m) beyond the rear bumper. The detection area extends to approximately 59 ft (18 m) beyond the rear bumper when the vehicle speed is greater than 30 mph (48 km/h) to alert you of faster approaching vehicles.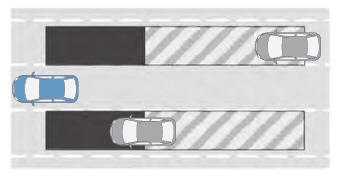 Blind Spot Information System Precautions
WARNING: Do not use the blind spot information system as a replacement for using the interior and exterior mirrors or looking over your shoulder before changing lanes. The blind spot information system is not a replacement for careful driving.
WARNING: The system may not operate properly during severe weather conditions, for example snow, ice, heavy rain and spray. Always drive with due care and attention. Failure to take care may result in a crash.
Note: Blind spot information system does not prevent contact with other vehicles. It does not detect parked vehicles, pedestrians, animals or other infrastructure.
Blind Spot Information System Limitations
Blind spot information system does not operate in park (P) or reverse (R).
The system may not alert you if a vehicle quickly passes through the detection zone.
Blind Spot Information System Requirements Blind spot information system turns on when all the following occur: You start your vehicle. You shift into drive (D)...
Other information:
Roof Rack Precautions WARNING: Read and follow the manufacturer's instructions when you are fitting a roof rack. WARNING: When loading the roof racks, we recommend you evenly distribute the load, as well as maintain a low center of gravity. Loaded vehicles, with higher centers of gravity, may handle differently than unloaded vehicles...
Special Tool(s) / General Equipment 205-126 (T78P-4851-A) Holding Fixture, Drive Pinion Flange 205-233 (T85T-4851-AH) Installer, Drive Pinion FlangeTKIT-1985-FH-1 303-249Remover, Crankshaft Timing Pulley Transmission Jack Flat-Bladed Screwdriver Wooden Block Materials Name Specification Motorcraft® Premium Long-Life GreaseXG-1-E1 ESA-M1C..
Categories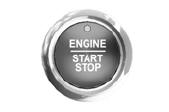 Switching the Ignition Off
When the ignition is on or in accessory mode, press the push button ignition switch once without your foot on the brake pedal.