Ford Escape: Pre-Collision Assist / How Does Pre-Collision Assist Work.
The system warns the driver of potential hazards by providing three levels of assistance.
If your vehicle is rapidly approaching potential hazards the system provides the following levels of functionality:
Alert.
Brake Support.
Automatic Emergency Braking.

Alert: When active, a flashing visual warning appears and an audible warning tone sounds.
Brake Support: The system is designed to help reduce the impact speed by preparing the brakes for rapid braking. The system does not automatically apply the brakes. If you press the brake pedal, the system could apply additional braking up to maximum braking force, even if you lightly press the brake pedal.
Automatic Emergency Braking: Automatic emergency braking may activate if the system determines that a collision is imminent.
Note: If you perceive pre-collision assist alerts as being too frequent or disturbing, then you can reduce the alert sensitivity, although the manufacturer recommends using the highest sensitivity setting where possible. Setting lower sensitivity would lead to fewer and later system warnings.
Each system has various levels of detection capabilities.
What Is Pre-Collision Assist Pre-collision assist detects and warns of approaching hazards in the roadway. If your vehicle is rapidly approaching another stationary vehicle, a vehicle traveling in the same direction as yours, or a pedestrian within your driving path, the system provides multiple levels of assistance to help avoid a collision...
Pre-Collision Assist Precautions WARNING: You are responsible for controlling your vehicle at all times. The system is designed to be an aid and does not relieve you of your responsibility to drive with due care and attention...
Other information:
System Operation Lane Keeping Alert and Lane Keeping Aid Item Description 1 Lane Keeping System Switch 2 IPMA 3 GWM 4 Camera Windshield Defrost Heater 5 RCM 6 SCCM 7 PCM 8 IPC 9 TRM 10 BCM 11 PSCM 12 with active cruise control 13 CCM ..
Overview The RCM continually receives and monitors inputs from the OCSM and various other hard-wired switches and sensors. If the RCM detects a sudden vehicle deceleration and/or lateral deceleration based on the information received from the various sensors and determines that deployment is necessary, it applies voltage and current to deploy the appropriate SRS components. The SRS utilizes..
Categories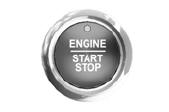 Switching the Ignition Off
When the ignition is on or in accessory mode, press the push button ignition switch once without your foot on the brake pedal.