Ford Escape: Liftgate - Vehicles With: Power Liftgate / Liftgate – Troubleshooting
Liftgate – Warning Lamps
Illuminates when the liftgate is not completely closed.
Liftgate – Information Messages

Liftgate – Frequently Asked Questions
Why won't my power liftgate function?
Make sure the transmission is in park (P), ensure nothing is obstructing the liftgate path and there is not excessive weight on the liftgate. If there are continued issues, the battery voltage may be low or other system issues. See an authorized dealer.
Stopping the Liftgate Movement Note: Do not apply sudden excessive force to the liftgate while it is in motion. This could damage the power liftgate and its components...
Other information:
Activation The HF45 transmission does not have an external mechanical lever to override P . To shift the transmission out of P the vehicle needs a 12 volt power source. If the battery voltage is not sufficient, an external 12 volt power source will be required to shift the transmission out of P . Once their is a sufficient power supply, enter the stay in N mode. All vehicles ..
Item Description 1 Driver side register 2 In-vehicle temperature & humidity sensor 3 Driver side register air discharge temperature sensor 4 Center registers 5 Passenger side register 6 HVAC control module 7 Driver side footwell air discharge temperature sensor Item Description 1 Climate control housing ..
Categories
Locating the Under Hood Fuse Box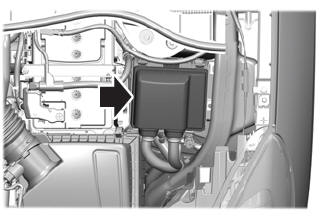 Accessing the Under Hood Fuse Box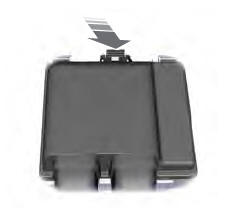 Pull the latch toward you and remove the top cover.