Ford Escape: Liftgate - Vehicles With: Power Liftgate / Liftgate – Troubleshooting
Liftgate – Warning Lamps
Illuminates when the liftgate is not completely closed.
Liftgate – Information Messages

Liftgate – Frequently Asked Questions
Why won't my power liftgate function?
Make sure the transmission is in park (P), ensure nothing is obstructing the liftgate path and there is not excessive weight on the liftgate. If there are continued issues, the battery voltage may be low or other system issues. See an authorized dealer.
Stopping the Liftgate Movement Note: Do not apply sudden excessive force to the liftgate while it is in motion. This could damage the power liftgate and its components...
Other information:
Special Tool(s) / General Equipment 310-250Disconnect Tool, Fuel LineTKIT-2012A-FLTKIT-2012A-ROW Disconnect NOTICE: When reusing liquid or vapor tube connectors, make sure to use compressed air to remove any foreign material from the connector retaining clip area before separating from the tube or damage to the tube or connector retaining clip can occur. Apply clean engine oil ..
Overview The IPC uses the following methods and functionality to alert the driver of vehicle conditions: gauges informational indicators warning indicators warning messages warning chimes The base IPC uses a single centered 4-inch screen to display driver information with analog gauges. The mid-level IPC uses a single centered 6-inch screen to display driver informa..
Categories
Locating the Under Hood Fuse Box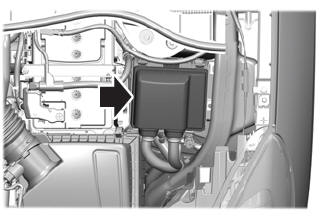 Accessing the Under Hood Fuse Box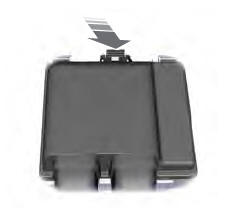 Pull the latch toward you and remove the top cover.