Ford Escape: Liftgate - Vehicles With: Power Liftgate / Liftgate – Troubleshooting
Liftgate – Warning Lamps
Illuminates when the liftgate is not completely closed.
Liftgate – Information Messages

Liftgate – Frequently Asked Questions
Why won't my power liftgate function?
Make sure the transmission is in park (P), ensure nothing is obstructing the liftgate path and there is not excessive weight on the liftgate. If there are continued issues, the battery voltage may be low or other system issues. See an authorized dealer.
Stopping the Liftgate Movement Note: Do not apply sudden excessive force to the liftgate while it is in motion. This could damage the power liftgate and its components...
Other information:
Setting a Destination You can use any of the following commands to set a destination or find a point of interest. ___ is a dynamic listing, meaning that for navigation voice commands it can be a POI category or a major brand name, where major brand name is a chain with more than 20 locations You can find an address, a point of interest (POI), or search for points of interest by category: ..
If you need to tow your vehicle, contact a professional towing service or your roadside assistance service provider. Your manufacturer produces a towing manual for all authorized tow truck operators. Have your tow truck operator refer to this manual for proper hook-up and towing procedures. We recommend the use of a wheel lift and dollies or flatbed equipment to tow your vehicle. Vehicle ..
Categories
Locating the Under Hood Fuse Box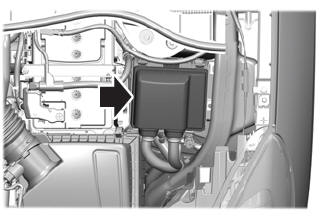 Accessing the Under Hood Fuse Box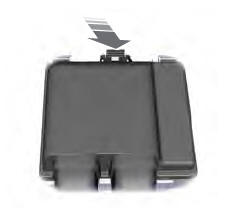 Pull the latch toward you and remove the top cover.