Ford Escape: Cross Traffic Alert / Locating the Cross Traffic Alert Sensors. Cross Traffic Alert Indicators
Locating the Cross Traffic Alert Sensors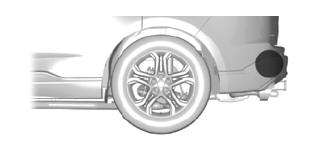 The sensors are behind the rear bumper on both sides of your vehicle.
Note: Keep the sensors free from snow, ice and large accumulations of dirt.
Note: Do not cover the sensors with bumper stickers, repair compound or other objects.
Note: Blocked sensors may affect system accuracy.
If something is blocking the sensors, a message may appear in the information display when you shift into reverse (R).
Cross Traffic Alert Indicators
When the cross traffic alert detects an approaching vehicle, a tone sounds, a warning lamp illuminates in the relevant exterior mirror and arrows appear in the information display to show which side the vehicle is approaching from.
If the system malfunctions, a warning lamp illuminates in the instrument cluster and a message appears in the information display. Have your vehicle checked as soon as possible.
Note: If arrows do not display, a message appears in the information display.
Note: In some conditions, the system could alert you, even when there is nothing in the detection zone, for example a vehicle passing further away from your vehicle.
Cross Traffic Alert Precautions WARNING: Do not use the cross traffic alert system as a replacement for using the interior and exterior mirrors or looking over your shoulder before reversing out of a parking space...
Cross Traffic Alert – Information Messages ..
Other information:
What Is the Garage Door Opener HomeLink Wireless Control System The universal garage door opener replaces the common hand-held garage door opener with a three-button transmitter integrated into the driver's sun visor. How Does the Garage Door Opener Work The system includes two primary features, a garage door opener and a platform for remote activation of devices within the home. You can..
Before starting the engine, check the following: Make sure the headlamps and electrical accessories are off. Make sure the parking brake is on. Make sure the transmission is in park (P). Fully press the brake pedal.Note: Do not touch the accelerator pedal. Turn the key to position III.Note: The engine may continue cranking for up to 15 seconds or until it starts. Note: The engine..