Ford Escape: Cross Traffic Alert / Locating the Cross Traffic Alert Sensors. Cross Traffic Alert Indicators
Locating the Cross Traffic Alert Sensors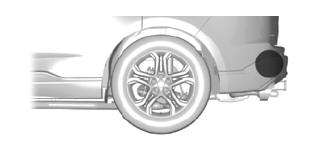 The sensors are behind the rear bumper on both sides of your vehicle.
Note: Keep the sensors free from snow, ice and large accumulations of dirt.
Note: Do not cover the sensors with bumper stickers, repair compound or other objects.
Note: Blocked sensors may affect system accuracy.
If something is blocking the sensors, a message may appear in the information display when you shift into reverse (R).
Cross Traffic Alert Indicators
When the cross traffic alert detects an approaching vehicle, a tone sounds, a warning lamp illuminates in the relevant exterior mirror and arrows appear in the information display to show which side the vehicle is approaching from.
If the system malfunctions, a warning lamp illuminates in the instrument cluster and a message appears in the information display. Have your vehicle checked as soon as possible.
Note: If arrows do not display, a message appears in the information display.
Note: In some conditions, the system could alert you, even when there is nothing in the detection zone, for example a vehicle passing further away from your vehicle.
Cross Traffic Alert Precautions WARNING: Do not use the cross traffic alert system as a replacement for using the interior and exterior mirrors or looking over your shoulder before reversing out of a parking space...
Cross Traffic Alert – Information Messages ..
Other information:
Special Tool(s) Coolant/Battery RefractometerROB75240 or equivalent D-Gas Adapter300-OTC014-R1068 or equivalent Radiator Tester014-R1072 or equivalent UView® Combustion Leak TesterUVU560000-R Diagnostic Trouble Code (DTC) Chart Diagnostics in this manual assume a certain skill level and knowledge of Ford-specific diagnostic prac..
NOTE: If an overnight drive is done, the fan air or road air blast can cause erroneous readings. NOTE: When diagnosing engine oil leaks, the source and location of the leak must be positively identified prior to repair. Prior to carrying out this procedure, clean the cylinder block, cylinder heads, valve covers, oil pan and flywheel/flexplate with a suitable solvent to remove al..