Ford Escape: Cross Traffic Alert / Locating the Cross Traffic Alert Sensors. Cross Traffic Alert Indicators
Locating the Cross Traffic Alert Sensors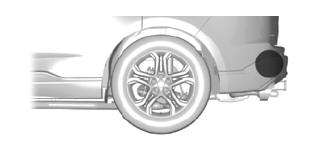 The sensors are behind the rear bumper on both sides of your vehicle.
Note: Keep the sensors free from snow, ice and large accumulations of dirt.
Note: Do not cover the sensors with bumper stickers, repair compound or other objects.
Note: Blocked sensors may affect system accuracy.
If something is blocking the sensors, a message may appear in the information display when you shift into reverse (R).
Cross Traffic Alert Indicators
When the cross traffic alert detects an approaching vehicle, a tone sounds, a warning lamp illuminates in the relevant exterior mirror and arrows appear in the information display to show which side the vehicle is approaching from.
If the system malfunctions, a warning lamp illuminates in the instrument cluster and a message appears in the information display. Have your vehicle checked as soon as possible.
Note: If arrows do not display, a message appears in the information display.
Note: In some conditions, the system could alert you, even when there is nothing in the detection zone, for example a vehicle passing further away from your vehicle.
Cross Traffic Alert Precautions WARNING: Do not use the cross traffic alert system as a replacement for using the interior and exterior mirrors or looking over your shoulder before reversing out of a parking space...
Cross Traffic Alert – Information Messages ..
Other information:
Blind Spot Information System Requirements Blind spot information system turns on when all the following occur: You start your vehicle. You shift into drive (D). The vehicle speed is greater than 6 mph (10 km/h). Switching Blind Spot Information System On and Off To switch blind spot information system on or off, use the touchscreen: Press Settings on the touchscreen. Press Driver Assi..
Special Tool(s) / General Equipment Resistance Spotwelding Equipment Spherical Cutter Hot Air Gun Air Body Saw 8 mm Drill Bit MIG/MAG Welding Equipment Spot Weld Drill Bit Locking Pliers Materials Name Specification Seam SealerTA-2-B, 3M™ 08308, LORD Fusor® 803DTM - Flexible Foam Repair3M™ 08463, LORD Fusor® 121 - ..