Ford Escape: Rear Drive Axle/Differential / Removal and Installation - Rear Drive Unit (RDU) Speed Sensor
Materials
Name
Specification
Motorcraft® Disconnect Rear Drive Unit Fluid
XY-75W-QL
-

Removal
NOTE: Removal steps in this procedure may contain installation details.
With the vehicle in NEUTRAL, position it on a hoist.
Refer to: Jacking and Lifting - Overview (100-02 Jacking and Lifting, Description and Operation).

Disconnect RDU speed sensor electrical connector.

Remove the bolt and the RDU speed sensor.
Torque: 53 lb.in (6 Nm)
NOTE: The O-ring seals are to be reused unless damaged.

Clean and inspect the RDU speed sensor O-ring for damage and install new RDU speed sensor as necessary.

Installation
NOTE: Make sure that a new component is installed if the O-ring is damaged.

NOTE: Make sure the O-ring is installed correctly within the O-ring groove.

If removed, install the new RDU speed sensor O-ring and lubricate them with clean RDU fluid.
Material: Motorcraft® Disconnect Rear Drive Unit Fluid / XY-75W-QL
To install, reverse the removal procedure.

Removal Remove the rear axle assembly. Refer to: Axle Assembly (205-02A) . NOTICE: The RDU contains axle fluid. To prevent spillage, do not tilt the RDU during actuator motor removal or installation...
Special Tool(s) / General Equipment 205-153 (T80T-4000-W) Handle 205-990Installer, Axle SealTKIT-2012A-FLTKIT-2012A-ROW Flat Headed Screw Driver Removal Remove the rear halfshaft...
Other information:
The driver and front passenger airbags deploy during significant frontal and near frontal crashes. The driver and passenger front airbag system consists of: Driver and passenger airbag modules. Front passenger sensing system. Crash sensors and monitoring system with readiness indicator...
Special Tool(s) / General Equipment 204-023 (T73T-1217-A) Installer, Wheel Hub Bearing Cup 204-180 (T93P-5493-A) Remover/Installer, BushingTKIT-1993-FLMTKIT-1993-LMTKIT-1993-FM 205-138 (T80T-4000-D) Installer, Drive Pinion Bearing Cup 205-140 (T80T-4000-F) Installer, Drive Pinion Bearing Cup 205-153 (T80T-4000-W) Handle 205-480Installer, Drive Pi..
Categories
WARNING: Always ride and drive with your seatback upright and properly fasten your seatbelt. Fit the lap portion of the seatbelt snugly and low across the hips. Position the shoulder portion of the seatbelt across your chest. Pregnant women must follow this practice. See the following figure.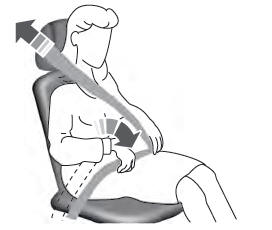 Copyright © 2022 www.fordescape4.com