Ford Escape: Keys and Remote Controls / Replacing a Lost Key or Remote Control. Programming the Remote Control. Keys and Remote Controls – Troubleshooting
Replacing a Lost Key or Remote Control
You can purchase replacement keys or remote controls from an authorized dealer. Authorized dealers can program remote controls for your vehicle.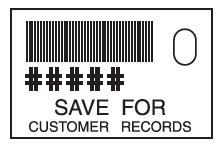 Note: Your vehicle keys came with a security label that provides important key cut information. Keep the label in a safe place for future reference.
Programming the Remote Control
Contact an authorized dealer to program remote controls for your vehicle.
Keys and Remote Controls – Troubleshooting
Keys and Remote Controls – Information Messages
WARNING: Keep batteries away from children to prevent ingestion. Failure to follow this instruction could result in personal injury or death. If ingested, immediately seek medical attention...
What Is MyKey MyKey allows you to program keys with restricted driving modes to promote good driving habits...
Other information:
What Is the Wireless Accessory Charger The wireless accessory charger allows you to charge one compatible Qi wireless charging device on the charging area. Wireless Accessory Charger Precautions WARNING: Wireless charging devices can affect the operation of implanted medical devices, including cardiac pacemakers. If you have any implanted medical devices, we recommend that you consult with ..
The system delivers a driving experience through a suite of sophisticated electronic vehicle systems. These systems optimize steering, handling and powertrain response. This provides a single location to control multiple systems performance settings. Changing the drive mode changes the functionality of the following systems: Electric power-assisted steering system adjusts steering effor..