Ford Escape: Keys and Remote Controls / Replacing a Lost Key or Remote Control. Programming the Remote Control. Keys and Remote Controls – Troubleshooting
Replacing a Lost Key or Remote Control
You can purchase replacement keys or remote controls from an authorized dealer. Authorized dealers can program remote controls for your vehicle.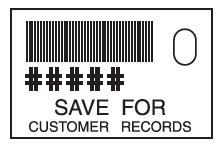 Note: Your vehicle keys came with a security label that provides important key cut information. Keep the label in a safe place for future reference.
Programming the Remote Control
Contact an authorized dealer to program remote controls for your vehicle.
Keys and Remote Controls – Troubleshooting
Keys and Remote Controls – Information Messages
WARNING: Keep batteries away from children to prevent ingestion. Failure to follow this instruction could result in personal injury or death. If ingested, immediately seek medical attention...
What Is MyKey MyKey allows you to program keys with restricted driving modes to promote good driving habits...
Other information:
Closing the Liftgate From Inside Your Vehicle WARNING: Make sure all persons are clear of the power liftgate area before using the power liftgate control. With the transmission in park (P), press the button on the instrument panel. Note: Make sure that you close the liftgate before operating or moving your vehicle, especially in an enclosure, like a garage or a parking structure. This coul..
The system warns the driver of potential hazards by providing three levels of assistance. If your vehicle is rapidly approaching potential hazards the system provides the following levels of functionality: Alert. Brake Support. Automatic Emergency Braking. Alert: When active, a flashing visual warning appears and an audible warning tone sounds. Brake Support: The system is designed t..