Ford Escape: Adaptive Cruise Control / Setting the Adaptive Cruise Control Gap

Press the button to cycle through the four gap settings.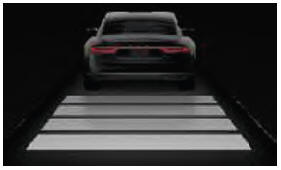 The selected gap appears in the instrument cluster display as shown by the bars in the image.
Note: The gap setting is time dependent and therefore, the distance adjusts with your vehicle speed.
Note: It is your responsibility to select a gap appropriate to the driving conditions.
Adaptive Cruise Control Gap Settings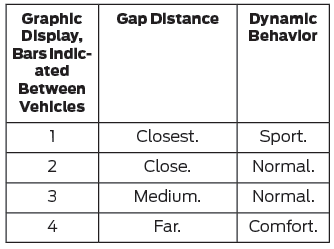 Each time you switch the system on, it selects the last chosen gap setting.
Following a Vehicle
When a vehicle ahead of you enters the same lane or a slower vehicle is ahead in the same lane, the vehicle speed adjusts to maintain the gap setting.
Note: When you are following a vehicle and you switch on a turn signal lamp, adaptive cruise control may provide a small, temporary acceleration to help you pass.
Your vehicle maintains a consistent gap from the vehicle ahead until:
The vehicle in front of you accelerates to a speed above the set speed.
The vehicle in front of you moves out of the lane you are in.
You set a new gap distance.
The system applies the brakes to slow down your vehicle to maintain a safe gap distance from the vehicle in front of you. The system only applies limited braking. You can override the system by applying the brakes.
Note: The brakes may emit noise when applied by the system.
If the system determines that its maximum braking level is not sufficient, an audible warning sounds, a message appears in the instrument cluster display and an indicator flashes when the system continues to brake. Take immediate action.
Switching Adaptive Cruise Control On and Off The cruise controls are on the steering wheel. Switching Adaptive Cruise Control On Press the button to set the system in standby mode...
Canceling the Set Speed Press the button or tap the brake pedal. The set speed does not erase. Resuming the Set Speed Press the button. Your vehicle speed returns to the previously set speed and gap setting...
Other information:
General Service Warnings Review carefully the information below before beginning any repair. Following these warnings is a list of specific system warnings that must be reviewed before beginning work on any listed system. WARNING: Vehicles equipped with an automatic transmission and a Telematics Control Unit (TCU) have remote start technology and may start the engine at any t..
Switching the Rear Window Wiper On and Off Intermittent wipe. Continuous wipe. Rear window wiper off. Reverse Wipe What Is Reverse Wipe Reverse wipe turns on the rear window wiper when you shift into reverse (R) and the windshield wipers are on. Reverse Wipe Settings Press Settings on the touchscreen. Press Vehicle Settings. Press Wipers. Switch Rear Wiper On (when in Reverse) on or..