Ford Escape: Automatic Transmission - Automatic Transmission – HF45 / Specifications
Lubricants, Fluids, Sealers and Adhesives
| | | |
| --- | --- | --- |
| | Part number | Specifications |
| Automatic Transmission Fluid / XT-12-QULV | HU7J-M2C949-AA | WSS-M2C949-A |
Capacities
| | Liters |
| --- | --- |
| Transmission fluid | 4.76 qt ( 4.5 L) |
General Specification
| | |
| --- | --- |
| Item | Specification |
| Transmission Weight Filled | 248.00 lb ( 112.49 kg) |
Differential Bearing Preload Shim Selection Chart
| | | | |
| --- | --- | --- | --- |
| Measurement | Differential Shim Service Part Number | Differential Shim Thickness | Engineering Part Number Suffix Printed on Shim |
| 0.0236 in ( .6 mm) | 7T4Z-4067-Y | 0.0197 in ( .5 mm) | HC |
| 0.0246 in ( .625 mm) | 7T4Z-4067-X | 0.0207 in ( .525 mm) | JC |
| 0.0256 in ( .65 mm) | 7T4Z-4067-A | 0.0217 in ( .55 mm) | KA or KB |
| 0.0266 in ( .675 mm) | 7T4Z-4067-B | 0.0226 in ( .575 mm) | LA |
| 0.0276 in ( .7 mm) | 7T4Z-4067-C | 0.0236 in ( .6 mm) | MA |
| 0.0285 in ( .725 mm) | 7T4Z-4067-D | 0.0246 in ( .625 mm) | NA |
| 0.0295 in ( .75 mm) | 7T4Z-4067-E | 0.0256 in ( .65 mm) | PA |
| 0.0305 in ( .775 mm) | 7T4Z-4067-F | 0.0266 in ( .675 mm) | RA |
| 0.0315 in ( .8 mm) | 7T4Z-4067-G | 0.0276 in ( .7 mm) | SA |
| 0.0325 in ( .825 mm) | 7T4Z-4067-H | 0.0285 in ( .725 mm) | TA |
| 0.0335 in ( .85 mm) | 7T4Z-4067-J | 0.0295 in ( .75 mm) | UA |
| 0.0344 in ( .875 mm) | 7T4Z-4067-K | 0.0305 in ( .775 mm) | VA |
| 0.0354 in ( .9 mm) | 7T4Z-4067-L | 0.0315 in ( .8 mm) | XA |
| 0.0364 in ( .925 mm) | 7T4Z-4067-M | 0.0325 in ( .825 mm) | YA |
| 0.0374 in ( .95 mm) | 7T4Z-4067-N | 0.0335 in ( .85 mm) | ZA |
| 0.0384 in ( .975 mm) | 7T4Z-4067-P | 0.0344 in ( .875 mm) | AB |
| 0.0394 in ( 1 mm) | 7T4Z-4067-Q | 0.0354 in ( .9 mm) | BB |
| 0.0404 in ( 1.025 mm) | 7T4Z-4067-R | 0.0364 in ( .925 mm) | CB |
| 0.0413 in ( 1.05 mm) | 7T4Z-4067-S | 0.0374 in ( .95 mm) | DB |
| 0.0423 in ( 1.075 mm) | 7T4Z-4067-T | 0.0384 in ( .975 mm) | EB |
| 0.0433 in ( 1.1 mm) | 7T4Z-4067-U | 0.0394 in ( 1 mm) | FB |
Transfer Gear Bearing Preload Shim Selection Chart
| | | | |
| --- | --- | --- | --- |
| Measurement | Transfer Gear Shim Service Part Number | Transfer Gear Shim Thickness | Engineering Part Number Suffix Printed on Shim |
| 0.0295 in ( .75 mm) | DG9Z-7H367-B | 0.0246 in ( .625 mm) | BA or BB |
| 0.0305 in ( .775 mm) | DG9Z-7H367-C | 0.0256 in ( .65 mm) | CA or CB |
| 0.0315 in ( .8 mm) | DG9Z-7H367-D | 0.0266 in ( .675 mm) | DA or DB |
| 0.0325 in ( .825 mm) | DG9Z-7H367-E | 0.0276 in ( .7 mm) | EA |
| 0.0335 in ( .85 mm) | DG9Z-7H367-F | 0.0285 in ( .725 mm) | FA |
| 0.0344 in ( .875 mm) | DG9Z-7H367-G | 0.0295 in ( .75 mm) | GA |
| 0.0354 in ( .9 mm) | DG9Z-7H367-H | 0.0305 in ( .775 mm) | HA |
| 0.0364 in ( .925 mm) | DG9Z-7H367-J | 0.0315 in ( .8 mm) | JA |
| 0.0374 in ( .95 mm) | DG9Z-7H367-K | 0.0325 in ( .825 mm) | KA |
| 0.0384 in ( .975 mm) | DG9Z-7H367-L | 0.0335 in ( .85 mm) | LA |
| 0.0394 in ( 1 mm) | DG9Z-7H367-M | 0.0344 in ( .875 mm) | MA |
| 0.0404 in ( 1.025 mm) | DG9Z-7H367-N | 0.0354 in ( .9 mm) | NA |
| 0.0413 in ( 1.05 mm) | DG9Z-7H367-P | 0.0364 in ( .925 mm) | PA |
| 0.0423 in ( 1.075 mm) | DG9Z-7H367-R | 0.0374 in ( .95 mm) | RA |
| 0.0433 in ( 1.1 mm) | DG9Z-7H367-S | 0.0384 in ( .975 mm) | SA |
| 0.0443 in ( 1.125 mm) | DG9Z-7H367-T | 0.0394 in ( 1 mm) | TA |
| 0.0453 in ( 1.15 mm) | DG9Z-7H367-U | 0.0404 in ( 1.025 mm) | UA |
| 0.0463 in ( 1.175 mm) | DG9Z-7H367-V | 0.0413 in ( 1.05 mm) | VA |
| 0.0472 in ( 1.2 mm) | DG9Z-7H367-X | 0.0423 in ( 1.075 mm) | XA |
| 0.0482 in ( 1.225 mm) | DG9Z-7H367-Y | 0.0433 in ( 1.1 mm) | YA |
| 0.0492 in ( 1.25 mm) | DG9Z-7H367-A | 0.0443 in ( 1.125 mm) | AB |
The differential allows the halfshafts and wheels to rotate at different speeds during cornering. The differential assembly consists of the following components: Differential carrier Two pinion gears Two side gears When driving in a straight line, both front wheels rotate at relatively the same speed...
Other information:
Special Tool(s) / General Equipment Pick Hook Removal NOTE: Removal steps in this procedure may contain installation details. Remove the LH C-pillar trim panel. Refer to: C-Pillar Trim Panel (501-05 Interior Trim and Ornamentation, Removal and Installation)...
Special Tool(s) / General Equipment 310-250Disconnect Tool, Fuel LineTKIT-2012A-FLTKIT-2012A-ROW Disconnect NOTICE: When reusing liquid or vapor tube connectors, make sure to use compressed air to remove any foreign material from the connector retaining clip area before separating from the tube or damage to the tube or connector retaining clip can occur...
Categories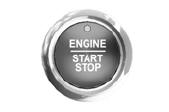 Switching the Ignition Off
When the ignition is on or in accessory mode, press the push button ignition switch once without your foot on the brake pedal.