Ford Escape: Automatic Transmission - Automatic Transmission – HF45 / Description and Operation - Differential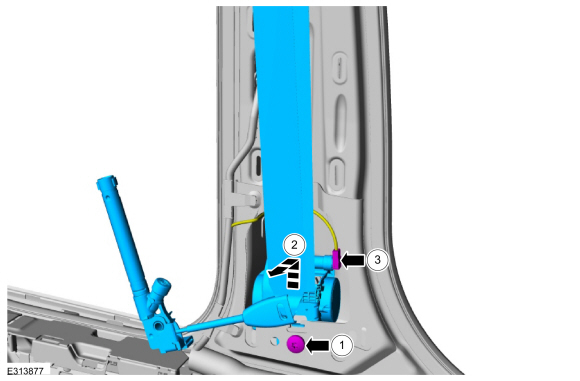 The differential allows the halfshafts and wheels to rotate at different speeds during cornering. The differential assembly consists of the following components:
Differential carrier
Two pinion gears
Two side gears
When driving in a straight line, both front wheels rotate at relatively the same speed. This means both side gears are rotating at the same speed as well, while both pinion gears revolve (but do not spin) with the side gears in the differential carrier. During cornering, the wheel on the outside of the turn is forced to rotate faster than the wheel on the inside of the turn. Since the side gears must now rotate at different speeds, the pinion gears rotate on the pinion shaft allowing the drive axles to rotate at different speeds while still transferring output torque.
Lubricants, Fluids, Sealers and Adhesives Part number Specifications Automatic Transmission Fluid / XT-12-QULV HU7J-M2C949-AA WSS-M2C949-A Capacities Liters Transmission fluid 4...
Item Part Number Description 1 7C0987C098 Traction motor drive gear assembly 2 7H4717H471 Transfer shaft and gear assembly 3 7F4657F465 Differential carrier and gear assembly 4 7L4377L437 Ring gear assembly The final drive gear is meshed with the transfer shaft and bolted to the differential case...
Other information:
Special Tool(s) / General Equipment 303-476 (T94P-9472-A) Socket, Exhaust Gas Oxygen SensorTKIT-1994-LM/MTKIT-1994-FTKIT-1994-FLM/FM Materials Name Specification Motorcraft® High Temperature Nickel Anti-Seize LubricantXL-2 - Motorcraft® Penetrating and Lock LubricantXL-1 - Motorcraft® Silicone Brake Caliper Grease and Dielectric CompoundXG-3-A ..
WARNING: Driving while distracted can result in loss of vehicle control, crash and injury. We strongly recommend that you use extreme caution when using any device that may take your focus off the road. Your primary responsibility is the safe operation of your vehicle. We recommend against the use of any hand-held device while driving and encourage the use of voice-operated systems when ..
Categories
Locating the Vehicle Identification Number
The vehicle identification number is on the left-hand side of the instrument panel.