Ford Escape: Steering
Electric Power Steering
Electric Power Steering Precautions
WARNING: The electric power steering system has diagnostic checks that continuously monitor the system. If a fault is detected, a message displays in the information display. Stop your vehicle as soon as it is safe to do so. Switch the vehicle off. After at least 10 seconds, switch the vehicle on and watch the information display for a steering system warning message. If a steering system warning message returns, have the system checked as soon as possible.
WARNING: If the system detects an error, you may not feel a difference in the steering, however a serious condition may exist. Have your vehicle checked as soon as possible. Failure to do so may result in loss of steering control.
Adapt your speed and driving behavior according to reduced steering assist.
Extreme continuous steering may increase the effort to steer. This occurs to prevent internal overheating and damage to the steering system. If this occurs, you will not lose the ability to steer your vehicle manually nor will it cause damage to the system. Normal steering and driving allows the system to cool down and steering assist returns to normal.
Note: There is no fluid reservoir to check or fill.
Electric Power Steering Adaptive Steering
Adaptive Learning (If Equipped)
Adaptive learning helps correct road irregularities and improves overall handling and steering. It communicates with the brake system to help operate advanced stability control and crash avoidance systems.
Note: When the battery is disconnected or a new battery is installed, you must drive your vehicle a short distance before the system relearns the strategy and reactivates all systems.
Steering Tips
If the steering wanders or pulls, check for:
An improperly inflated tire.
Uneven tire wear.
Loose or worn suspension components.
Improper vehicle alignment.
Note: A high crown in the road or high crosswinds could also make the steering wander or pull.
Steering – Troubleshooting
Steering – Information Messages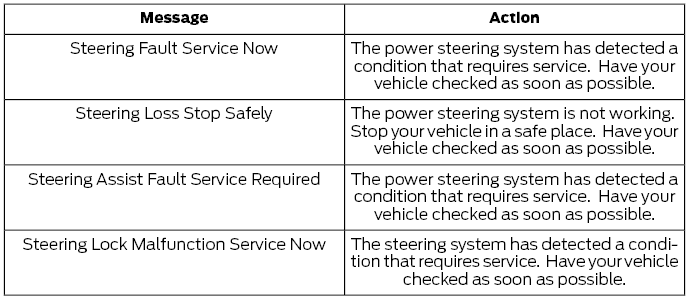 How Does Stability Control Work WARNING: Vehicle modifications involving braking system, aftermarket roof racks, suspension, steering system, tire construction and wheel and tire size may change the handling characteristics of your vehicle and may adversely affect the performance of the electronic stability control system...
Other information:
Stopping the Liftgate Movement Note: Do not apply sudden excessive force to the liftgate while it is in motion. This could damage the power liftgate and its components. Note: Selections will vary depending on region or options. You can stop the liftgate movement by doing any of the following: Pressing the outside liftgate control button. Pressing the inside liftgate control button. Pr..
Argentina Ghana Jamaica Mauritania Morocco Paraguay 2020-07-I-0405 Serbia Singapore South Africa South Korea R-R-175-P005 United Arab Emirates (U.A.E.) United States and Canada WARNING: Changes or modifications not expressively approved by the party responsible for compliance could void the user's authority to operate the equipment. The term "IC:" before the radio certificat..