Ford Escape: Tire Pressure Monitoring System / Tire Pressure Monitoring System Precautions. Tire Pressure Monitoring System Limitations. Viewing the Tire Pressures
Tire Pressure Monitoring System Precautions
WARNING: The tire pressure monitoring system is not a substitute for manually checking tire pressures. You should periodically check tire pressures using a pressure gauge. Failure to correctly maintain tire pressures could increase the risk of tire failure, loss of control, vehicle rollover and personal injury.
WARNING: Do not use the tire pressure displayed in the information display as a tire pressure gauge. Failure to follow this instruction could result in personal injury or death.
Note: The use of tire sealants can damage the tire pressure monitoring system.
Tire Pressure Monitoring System Limitations
When the outside temperature drops significantly, the tire pressure could decrease and activate the low tire pressure warning lamp.
The warning lamp could also illuminate when you use a spare wheel, or tire sealant from the inflator kit.
Note: Regularly checking the vehicle tire pressures can reduce the possibility for the warning lamp to illuminate due to outside air temperature changes.
Note: After you inflate the tires to the recommended pressure it could take up to two minutes of driving over 20 mph (32 km/h) for the warning indicator to turn off.
Viewing the Tire Pressures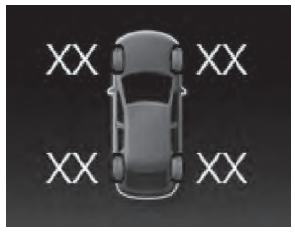 To view the current tire pressures, use the information display or touchscreen.
What Is the Tire Pressure Monitoring System The tire pressure monitoring system measures the vehicle's tire pressures. A warning lamp illuminates if one or more tires are significantly underinflated or if there is a system malfunction...
Tire Pressure Monitoring System – Warning Lamps The low tire pressure warning lamp has combined functions, as it warns you when your tires need air, and when the system is no longer capable of functioning as intended...
Other information:
1.5L EcoBoost™ 2.0L EcoBoost™ 2.5L, Hybrid Electric Vehicle (HEV)/Plug-In Hybrid Electric Vehicle (PHEV) ..
Opening the Hood Open the left-hand front door. Fully pull the hood release lever and let it completely retract.Note: This action releases the hood latch. Fully pull the hood release lever for a second time.Note: This action fully releases the hood. Open the hood.Note: There is no secondary hood release under the hood. Support the hood with the strut. Closing the Hood WARNING: Make sure ..