Ford Escape: Tire Pressure Monitoring System / Tire Pressure Monitoring System Precautions. Tire Pressure Monitoring System Limitations. Viewing the Tire Pressures
Tire Pressure Monitoring System Precautions
WARNING: The tire pressure monitoring system is not a substitute for manually checking tire pressures. You should periodically check tire pressures using a pressure gauge. Failure to correctly maintain tire pressures could increase the risk of tire failure, loss of control, vehicle rollover and personal injury.
WARNING: Do not use the tire pressure displayed in the information display as a tire pressure gauge. Failure to follow this instruction could result in personal injury or death.
Note: The use of tire sealants can damage the tire pressure monitoring system.
Tire Pressure Monitoring System Limitations
When the outside temperature drops significantly, the tire pressure could decrease and activate the low tire pressure warning lamp.
The warning lamp could also illuminate when you use a spare wheel, or tire sealant from the inflator kit.
Note: Regularly checking the vehicle tire pressures can reduce the possibility for the warning lamp to illuminate due to outside air temperature changes.
Note: After you inflate the tires to the recommended pressure it could take up to two minutes of driving over 20 mph (32 km/h) for the warning indicator to turn off.
Viewing the Tire Pressures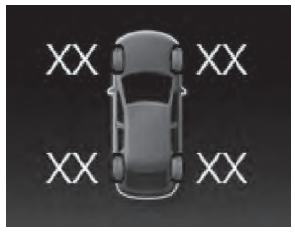 To view the current tire pressures, use the information display or touchscreen.