Ford Escape: Instrument Cluster Display / Vehicle Charging Status - Plug-In Hybrid Electric Vehicle (PHEV)
The vehicle charge status displays when you switch off your vehicle and when you switch on your vehicle when plugged in. Charging status includes the charge start or charge end time as appropriate. You can modify your charge settings though the touchscreen. See SYNC™ 3.
The trip summary displays upon shutting off your vehicle. The values are cumulative since you last started your vehicle. The information shown is the same as the This Trip screen...
Other information:
Special Tool(s) / General Equipment 205-153 (T80T-4000-W) Handle 303-1247VCT Spark Plug Tube Seal Remover and InstallerTKIT-2006UF-FLMTKIT-2006UF-ROW 303-1416Tool, Crank Damper HoldingTKIT-2008ET-FLM 303-409 (T92C-6700-CH) Remover, Crankshaft SealTKIT-1992-FH/FMH/FLMHTKIT-1993-LMH/MH 303-465Tool, Camshaft Align TimingTKIT-1994-LMH/MH2TKIT-1994-FH/FMH/FLMH ..
Materials Name Specification Motorcraft® Metal Brake Parts CleanerPM-4-A, PM-4-B, APM-4-C - Removal NOTICE: The turbocharger compressor vanes can be damaged by even the smallest particles. When removing any turbocharger or engine air intake system component, ensure that no debris enters the system. Failure to do so may result in damage to the turbocharger. ..
Categories
Locating the Vehicle Identification Number
The vehicle identification number is on the left-hand side of the instrument panel.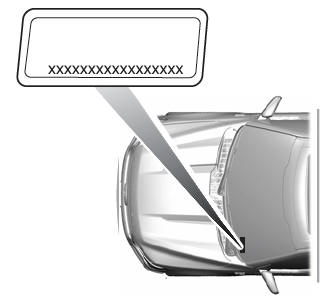 Copyright © 2023 www.fordescape4.com