Ford Escape: Climate Control System - General Information / Description and Operation - Climate Control System - Vehicles With: Electronic Manual Temperature Control (EMTC) - Overview
Overview
The EMTC system heats or cools the vehicle interior depending on the HVAC control panel selection.
The control panel selection determines heating or cooling, air distribution and enables blower motor operation.
The temperature control setting determines the outlet air temperature.
The blower motor switch varies the blower motor speed.
During A/C operation, the system reduces the relative humidity of the air inside the vehicle.
Vehicles equipped with Auto Start-Stop have a cabin heater coolant pump to help coolant flow to the heater core.
Overview The EATC system maintains the selected vehicle interior temperature by heating and/or cooling the air depending on the HVAC control panel selection...
System Operation System Diagram Item Description 1 HVAC Control Module 2 Air distribution door actuator 3 Driver side temperature door actuator 4 Air inlet door actuator 5 Blower motor relay 6 Blower motor control module 7 Passenger side temperature door actuator 8 APIM 9 GWM 10 Ambient Air Temperatur..
Other information:
Go to the settings menu on your cell phone and switch Bluetooth on. Select the phone option on the feature bar. Select Add Phone.Note: A prompt alerts you to search for your vehicle on your cell phone. Select your vehicle on your cell phone.Note: A number appears on your cell phone and on the touchscreen. Confirm that the number on your cell phone matches the number on the touchscreen..
Press the control button to unlatch the liftgate and then lift to open. Note: Be careful when opening or closing the liftgate in a garage or other enclosed area to avoid damaging the liftgate. Note: Do not hang anything, for example a bike rack, from the glass or liftgate. This could damage the liftgate and its components. Note: Do not leave the liftgate open while driving. This could dama..
Categories
Engine Oil Dipstick Overview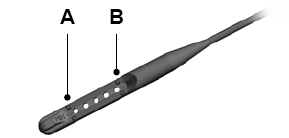 Minimum. Maximum.
Copyright © 2022 www.fordescape4.com