Ford Escape: Climate Control System - General Information / Description and Operation - Climate Control System - Vehicles With: Electronic Manual Temperature Control (EMTC) - Overview
Overview
The EMTC system heats or cools the vehicle interior depending on the HVAC control panel selection.
The control panel selection determines heating or cooling, air distribution and enables blower motor operation.
The temperature control setting determines the outlet air temperature.
The blower motor switch varies the blower motor speed.
During A/C operation, the system reduces the relative humidity of the air inside the vehicle.
Vehicles equipped with Auto Start-Stop have a cabin heater coolant pump to help coolant flow to the heater core.
Overview The EATC system maintains the selected vehicle interior temperature by heating and/or cooling the air depending on the HVAC control panel selection...
System Operation System Diagram Item Description 1 HVAC Control Module 2 Air distribution door actuator 3 Driver side temperature door actuator 4 Air inlet door actuator 5 Blower motor relay 6 Blower motor control module 7 Passenger side temperature door actuator 8 APIM 9 GWM 10 Ambient Air Temperatur..
Other information:
OVERVIEW WARNING: To prevent the risk of high-voltage shock, always follow precisely all warnings and service instructions, including instructions to depower the system. The high-voltage system utilizes approximately 450 volts DC, provided through high-voltage cables to its components and modules. The high-voltage cables and wiring are identified by orange harness tape or orange w..
NOTE: The following illustrations are examples of structural adhesive and sealer applications and are not all inclusive. Sealers and Adhesives The correct adhesive bonding and sealing is essential to repairing the vehicle correctly. Adhesives and sealers are used in many areas of the body structure. In addition to providing a structural bond or seal between components, adhesives a..
Categories
Engine Oil Dipstick Overview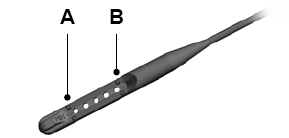 Minimum. Maximum.
Copyright © 2023 www.fordescape4.com