Ford Escape: Fuel System - General Information / Description and Operation - Fuel System - Overview
Overview
NOTICE: Repairs of the fuel system are to be achieved only by replacement of the failed component(s). Repair of a fuel system component should not be attempted.
NOTICE: If directed during assembly of fuel system components, lubricate any seal(s) only with specified material. Failure to follow this instruction may result in seal failure and fuel leakage.
The fuel system consists of:
Fuel, vapor and brake tubes in an integrated bundle assembly.
A saddle type fuel tank.
Quick connect fuel and vapor tube couplings.
A fuel tank filler pipe assembly, which cannot be modified in any way, that also contains a restrictor plate to permit only unleaded fuel to be pumped into the tank.
An Easy Fuel™ (capless) fuel tank filler pipe assembly, which cannot be modified in any way and is serviced only by the installation of a new fuel tank filler pipe assembly.
A supplemental refueling adapter located in the luggage compartment.
Fuel Pump Control Module is located in luggage compartment .
A non-serviceable fuel level sender located on the RH side of the fuel tank.
A mechanical returnless fuel system (MRFS)
A Fuel Pump (FP) module containing:

An electric fuel pump supplying fuel under pressure to the fuel rail.

A check valve which maintains system pressure after the pump is shut off.

A pressure relief for overpressure protection in the event of restricted fluid flow.

A lifetime fuel filter providing filtration to protect the fuel injectors from foreign material.
Fuel Pump Shut-off Feature
NOTE: Refer to the Description and Operation, Intelligent Access with Push Button Start in Section 419-01A to review the procedures for achieving the various ignition states (ignition OFF, ignition in ACCESSORY, ignition ON and ignition START) on vehicles with this feature.
In the event of a moderate to severe collision, the vehicle is equipped with a Fuel Pump and Sender Shut-off Feature that is initiated by the event notification signal.
The event notification feature provides other vehicle subsystems with information pertaining to restraint system deployment or fuel cutoff status. When an impact occurs which exceeds a predetermined threshold, the RCM sends a signal on a dedicated circuit to the BCM . The BCM then sends a signal on a second hard-wired circuit to the PCM , which initiates fuel cut-off and disables the fuel system.
Should the vehicle shut off after a collision due to this feature, the vehicle may be restarted by first turning the ignition to the OFF position and then turn the ignition to the ON position. In some instances the vehicle may not start the first time and may take one additional ignition cycle.
Categories
Locating the Under Hood Fuse Box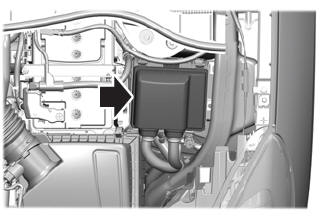 Accessing the Under Hood Fuse Box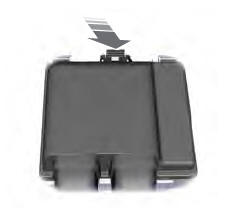 Pull the latch toward you and remove the top cover.