Ford Escape: Parking Aid - Vehicles With: Rear Parking Aid / Description and Operation - Parking Aid - Overview
Parking Aid Overview
Parking Aid - Audible
The available parking aid features depend on the vehicle trim level and options selected. The possible audio parking aid configurations are as follows:
Rear parking aid
Front and rear parking aid
Front and rear parking aid, plus active park assist and the side sensing system (also known as flank guard)
The rear parking aid system sounds a warning tone through the rear audio speakers to alert the driver of stationary objects near the rear bumper when the vehicle is in reverse. The rear parking aid system may not detect moving objects.
If equipped, the side sensing system (also known as flank guard) uses the front and rear side sensors to detect and map obstacles that are near the sides of the vehicle. The side sensing system provides a warning tone if an obstacle is detected on the right or left side of the vehicle while the vehicle moves slowly in forward or reverse.
The side sensing system is unavailable when the traction control system is deactivated. The side sensing system may not be available until the vehicle is driven approximately one vehicle length allowing the system to reinitialize after the following conditions:
Ignition switched on, off, and back on.
Vehicle is stationary for two minutes or more.
ABS is activated.
Traction control system is activated.
The parking aid system is disabled if a fault is detected in a parking aid system. This is indicated by a parking aid disabled warning message in the message center.
The parking aid system is enabled and disabled through the parking aid switch located in the center stack. The rear parking aid remains disabled for one ignition cycle.
When a MyKey® restricted key is in use, the parking aid system is enabled by default and cannot be disabled.
System Operation Parking Aid - Audible System Diagram Item Description 1 Rear door speakers 2 Front door speakers 3 TRM 4 BCM 5 PCM 6 DSP 7 ACM 8 IPC 9 APIM 10 ABS module 11 with 10 speaker system 12 GWM 13 PSCM 14 PAM 15 Right front ..
Other information:
How Does All-Wheel Drive Work All-wheel drive uses all four wheels to power the vehicle. This increases traction, enabling you to drive over terrain and road conditions that a conventional two-wheel drive vehicle cannot. The AWD system turns on when needed and does not require input from you. Note: The AWD feature gives your vehicle some limited off-road capabilities in which driving surfa..
Note: cityseeker point of interest (POI) information is limited to approximately 1,110 cities (1,049 in the United States, 36 in Canada and 15 in Mexico). cityseeker, when available, is a service that provides more information about certain points of interest such as restaurants, hotels and attractions. When you have selected a point of interest, the location and information appear, such ..
Categories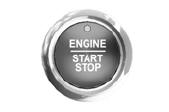 Switching the Ignition Off
When the ignition is on or in accessory mode, press the push button ignition switch once without your foot on the brake pedal.