Ford Escape: Starting System - 1.5L EcoBoost (132kW/180PS) – I3 (Y1) / Description and Operation - Starting System - Overview
Starting System
The starting system controls the cranking of the engine. When the PCM receives inputs from the ignition switch, transmission (with automatic transmission) or clutch pedal position switch (with manual transmission), run/start relay and the BCM it then energizes the BJB starter relay. When the starter relay is energized it applies power to the starter motor which cranks the engine.
Auto-Start-Stop
The Auto-Start-Stop system helps reduce fuel consumption by automatically shutting off the vehicle's engine while the vehicle is at a complete stop and restarting the engine when the clutch pedal is pressed (with manual transmission) or when the brake pedal is released (with automatic transmissions). The Auto-Start-Stop system is automatically enabled whenever the ignition is turned on. The vehicle may restart automatically in order to maintain interior comfort or to recharge the battery.
Refer to the Owner's Literature for additional information.
General Specifications Item Specification Normal engine cranking speed (Average) 200-300 Revolutions Per Minute (RPM) Starting circuit maximum voltage drop (Engine at normal operating temperature) (Average) 0...
System Operation System Diagram Item Description 1 PCM 2 Starter Relay 3 Starter Motor 4 BCM 5 Brake Pedal Position Switch 6 Clutch Pedal Switch (Manual Transmission) 7 Ignition Switch Network Message Chart Module Network Input Messages Powertrain Control Module (PCM) ..
Other information:
Tuning a Station You can use the tune or seek controls on the radio bezel to select a station. To tune a station using the touchscreen, select: A pop up appears, allowing you to type in the frequency of a station. You can only enter a valid station for the source you are currently listening to. You can press the backspace button to delete the previously entered number. Once you have entered..
Special Tool(s) / General Equipment 204-069 (T81P-1104-C) Remover/Installer, Front Wheel Hub 307-587Differential bearing installer and guideTKIT-2006UF-FLMTKIT-2006UF-ROW 307-791Install, Differential Bearing (AWD) Hydraulic Press Puller DISASSEMBLY Inspect the differential bearings for damage or excessive wear. Install new bearings if necessary. ..
Categories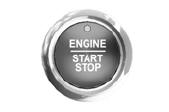 Switching the Ignition Off
When the ignition is on or in accessory mode, press the push button ignition switch once without your foot on the brake pedal.