Ford Escape: Airbags / How Do the Front Airbags Work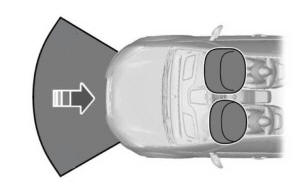 The driver and front passenger airbags deploy during significant frontal and near frontal crashes.
The driver and passenger front airbag system consists of:
Driver and passenger airbag modules.
Front passenger sensing system.
Crash sensors and monitoring system with readiness indicator.
The airbags are a supplemental restraint system and are designed to work with the seatbelts to help protect the driver and right front passenger from certain upper body injuries. Airbags do not inflate slowly; there is a risk of injury from a deploying airbag.
Note: You will hear a loud bang and see a cloud of harmless powdery residue if an airbag deploys. This is normal.
The airbags inflate and deflate rapidly upon activation. After airbag deployment, it is normal to notice a smoke-like, powdery residue or smell the burnt propellant. This may consist of cornstarch, talcum powder (to lubricate the bag) or sodium compounds (for example, baking soda) that result from the combustion process that inflates the airbag. Small amounts of sodium hydroxide may be present which may irritate the skin and eyes, but none of the residue is toxic.
Contact with a deploying airbag may cause abrasions or swelling. Temporary hearing loss is also a possibility as a result of the noise associated with a deploying airbag.
Because airbags must inflate rapidly and with considerable force, there is the risk of death or serious injuries such as fractures, facial and eye injuries or internal injuries, particularly to occupants who are not properly restrained or are otherwise out of position at the time of airbag deployment. Thus, it is extremely important that occupants be properly restrained as far away from the airbag module as possible while maintaining vehicle control.
Routine maintenance of the airbags is not required.
WARNING: Do not place objects or mount equipment on or near the airbag cover, on the side of the front or rear seatbacks, or in areas that may come into contact with a deploying airbag...
Other information:
Use a belt-positioning booster seat for children who have outgrown or no longer properly fit in a child restraint and meet the following criteria. Generally children who are less than 57 in (1.45 m) tall. Are greater than age four (4) and less than age twelve (12)...
WARNING: Batteries contain sulfuric acid and produce explosive gases. Work in a well-ventilated area. Do not allow the battery to come in contact with flames, sparks or burning substances. Avoid contact with skin, eyes or clothing. Shield eyes when working near the battery to protect against possible splashing of acid solution...