Ford Escape: Airbags / How Do the Side Airbags Work
WARNING: Do not place objects or mount equipment on or near the airbag cover, on the side of the front or rear seatbacks, or in areas that may come into contact with a deploying airbag. Failure to follow these instructions may increase the risk of personal injury in the event of a crash.
WARNING: Do not use accessory seat covers. The use of accessory seat covers may prevent the deployment of the side airbags and increase the risk of injury in an accident.
WARNING: Do not lean your head on the door. The side airbag could injure you as it deploys from the side of the seatback.
The side airbags are on the outermost side of each front and rear seat backrest. In certain sideways crashes or rollovers, the airbags will be inflated. The airbag was designed to inflate between the door panel and occupant to further enhance the protection provided occupants in side impact crashes.
Properly restrain children 12 years old and under in the rear seats. The rear side airbag will not interfere with children restrained using a properly installed child or booster seat.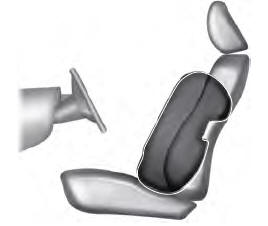 The system consists of the following:
A label or embossed side panel indicating that side airbags are fitted to your vehicle.
Side airbags inside the driver and front passenger seat backrests, as well as side airbags inside of each outermost rear seat backrest.
Crash sensors and monitoring system with readiness indicator.
The driver and front passenger airbags deploy during significant frontal and near frontal crashes. The driver and passenger front airbag system consists of: Driver and passenger airbag modules...
How Do the Knee Airbags Work The driver knee airbag is under or within the instrument panel. During a crash, the restraints control module may activate the knee airbag based on crash severity and respective occupant conditions...
Other information:
Partial Replacement Item Description 1 Sectioning area 2 Manufacture weld joint Decision Criteria The following points a crucial to the decision of complete or partial replacement of the part(s)...
System Operation Rear Only Parking Aid Camera System Diagram Item Description 1 PAM 2 ABS module 3 PSCM 4 GWM 5 BCM 6 PCM 7 TRM 8 Rear parking aid camera 9 video signal 10 APIM 11 Audio system display Network Message Chart BCM Network Input Mess..
Categories
Locating the Under Hood Fuse Box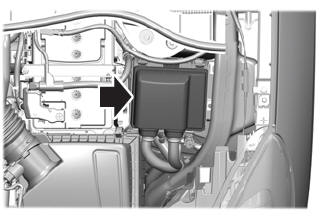 Accessing the Under Hood Fuse Box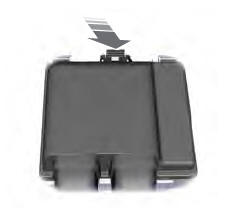 Pull the latch toward you and remove the top cover.