Ford Escape: Blind Spot Information System / Locating the Blind Spot Information System Sensors. Blind Spot Information System Indicators
Locating the Blind Spot Information System Sensors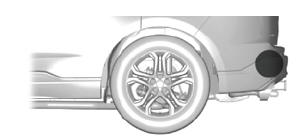 The sensors are behind the rear bumper on both sides of your vehicle.
Note: Keep the sensors free from snow, ice and large accumulations of dirt.
Note: Do not cover the sensors with bumper stickers, repair compound or other objects.
Note: Blocked sensors may affect system accuracy.
If the sensors become blocked, a message may appear in the information display. The alert indicators remain illuminated but the system does not alert you.
Blind Spot Information System Indicators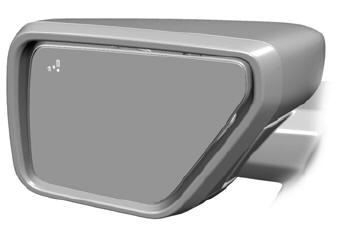 When blind spot information system detects a vehicle, an alert indicator illuminates in the exterior mirror on the side the approaching vehicle is coming from. If you turn the turn signal on for that side of your vehicle, the alert indicator flashes.
Blind Spot Information System Requirements Blind spot information system turns on when all the following occur: You start your vehicle. You shift into drive (D)...
Blind Spot Information System – Information Messages ..
Other information:
Regulations such as those issued by the Federal Highway Administration or issued pursuant to the Occupational Safety and Health Act (OSHA), and state and local laws and regulations may require additional equipment for the way you intend to use your vehicle. It is the responsibility of the registered owner to determine the applicability of such laws and regulations to your intended use for..
WARNING: To help avoid personal injury, always use caution when in reverse (R) and when using the sensing system. WARNING: The system may not detect objects with surfaces that absorb reflection. Always drive with due care and attention. Failure to take care may result in a crash. WARNING: Traffic control systems, fluorescent lamps, inclement weather, air brakes, external motors and fans m..