Ford Escape: Blind Spot Information System / Locating the Blind Spot Information System Sensors. Blind Spot Information System Indicators
Locating the Blind Spot Information System Sensors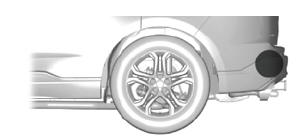 The sensors are behind the rear bumper on both sides of your vehicle.
Note: Keep the sensors free from snow, ice and large accumulations of dirt.
Note: Do not cover the sensors with bumper stickers, repair compound or other objects.
Note: Blocked sensors may affect system accuracy.
If the sensors become blocked, a message may appear in the information display. The alert indicators remain illuminated but the system does not alert you.
Blind Spot Information System Indicators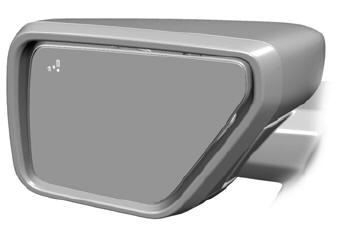 When blind spot information system detects a vehicle, an alert indicator illuminates in the exterior mirror on the side the approaching vehicle is coming from. If you turn the turn signal on for that side of your vehicle, the alert indicator flashes.
Blind Spot Information System Requirements Blind spot information system turns on when all the following occur: You start your vehicle. You shift into drive (D)...
Blind Spot Information System – Information Messages ..
Other information:
Reporting Safety Defects in the United States If you believe that your vehicle has a defect which could cause a crash or could cause injury or death, you should immediately inform the National Highway Traffic Safety Administration (NHTSA) in addition to notifying Ford Motor Company. If NHTSA receives similar complaints, it may open an investigation, and if it finds that a safety defect e..
EV coach can help you get the most out of your vehicle's electric driving capabilities. Note: EV coach is a selectable screen. See Customizing the Instrument Cluster Display. When you are accelerating or maintaining speed you see a blue or white solid bar indicating vehicle power. You may also see a blue rectangular box which shows the power level at which the engine turns on. When the po..