Ford Escape: Vehicle Care / Repairing Minor Paint Damage. Waxing Your Vehicle
Repairing Minor Paint Damage
Authorized dealers have touch-up paint to match your vehicle's color. Your vehicle color code is printed on a sticker on the front, left-hand side door jamb. Take your color code to your authorized dealer to make sure you get the correct color.
Before repairing minor paint damage, use a cleaner to remove particles such as bird droppings, tree sap, insect deposits, tar spots, road salt and industrial fallout.
Read the instructions before using cleaning products.
Waxing Your Vehicle
Wax the high-gloss painted surface of your prewashed vehicle once or twice a year.
We recommend that you only use an approved quality wax that does not contain abrasives. Follow the manufacturer's instructions to apply and remove the wax. For additional information and assistance, we recommend that you contact an authorized dealer.
When washing and waxing, park your vehicle in a shaded area out of direct sunlight.
Note: Avoid waxing unpainted or low-gloss black colored parts, they discolor over time.
Cleaning the Instrument Panel WARNING: Do not use chemical solvents or strong detergents when cleaning the steering wheel or instrument panel to avoid contamination of the airbag system...
The distance between the underside of your vehicle and the ground is less than that of other models. Drive with extreme care to avoid damage to your vehicle...
Other information:
Removal WARNING: Service actions on vehicles equipped with electronic brake booster and electronic parking brakes may cause unexpected brake application, which could result in injury to hands or fingers. Put the brake system into service mode prior to servicing or removing any brake components...
Changing a Flat Tire WARNING: Never place anything between the vehicle jack and the ground. WARNING: Never place anything between the vehicle jack and your vehicle. WARNING: To help prevent your vehicle from moving when changing a wheel, shift the transmission into park (P), set the parking brake and use an appropriate block or wheel chock to secure the wheel diagonally opposite to the wh..
Categories
Locating the Under Hood Fuse Box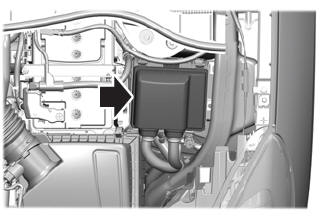 Accessing the Under Hood Fuse Box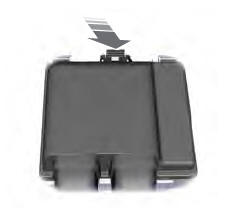 Pull the latch toward you and remove the top cover.