Ford Escape: Navigation (If Equipped) / Setting a Destination
Destination Entry Menu

Setting a Destination Using the Text Entry Screen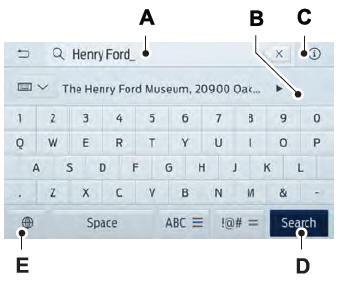 Text entry field.
Automatic suggestions based on the text you enter.
Information icon.
Search.
Keyboard settings.
Note: Select one of the suggestions to copy the detail to the text entry field.
You can search by entering all or part of the destination, such as the Address, POI Category or Name, Intersection, City, Latitude/Longitude, etc. Tips: If you do not specify a location, the system will use the current vehicle location. You can specify a location by address, city, state or zip code. For additional search support, please visit: support.ford.com.
Note: Press the button in the top right-hand corner of the main map to display estimated time of arrival, remaining travel time or distance to destination.
Setting a Destination Using the Map Screen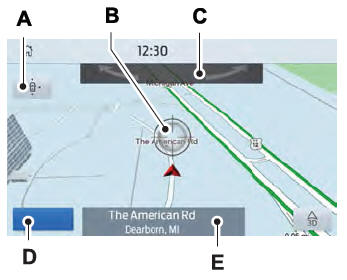 Re-center the map.
Selected location.
3D map rotation. Swipe left or right.
Start route guidance.
Destination name.
Select the location on the map.
Select Start to begin route guidance.
Note: For more information, refer to our website. Select the navigation option on the feature bar. Map view menu. Zoom out. Zoom in. Route guidance menu...
Display the map in one of the following formats: A two-dimensional map with the direction you are traveling toward the top of the screen. A two-dimensional map with north toward the top of the screen...
Other information:
Removal NOTE: Removal steps in this procedure may contain installation details. NOTE: To prevent setting DTC make sure the ignition is in the OFF position prior to disconnecting the accelerator pedal electrical connector. Disconnect the electrical connector, remove the nuts and the accelerator pedal assembly...
Lubricants, Fluids, Sealers and Adhesives Market Item Specifications US, Canada Motorcraft® R-1234yf Refrigerant POE Oil / YN-34 WSS-M2C31-B2 US, Canada Motorcraft® R-1234yf Refrigerant PAG Oil / YN-35 WSS-M2C300-A2 Mexico Motorcraft® PAG Refrigerant Compressor Oil / YN-12-D WSH-M1C231-B ..