Ford Escape: Electronic Feature Group / Side and Rear Vision
Special Tool(s) / General Equipment Interior Trim Remover Removal All vehicles NOTE: Removal steps in this procedure may contain installation details...
Component Location - Blind Spot Monitoring System Item Description 1 PDM (if equipped) 2 RH exterior mirror 3 SODR 4 SODL 5 DDM (if equipped) 6 LH exterior mirror ..
Other information:
VIN VIN Locator The VIN is a 17-digit combination of letters and numbers. The VIN is stamped on a metal tab riveted to the instrument panel, top upper left of the dash. The VIN is also found on the VC label. If the VIN plate requires replacement, authorized dealers must contact their respective regional office. Item Description 1 W..
Overview - Active Park Assist The active park assist system is a full-assisted parking system. The system assists parking into and out (assist out of parking spots only available for parallel parking) of parking spaces. Sensors are used to detect parking spaces. The system then steers, accelerates, brakes and shifts gears as required to maneuver into or out of a parking space. The PAM use..
Categories
What Is the Master Access Code
The master access code is a factory-set five-digit entry code. You can operate the keypad with the master access code at any time. The master access code is on the owner's wallet card in the glove box and is available from an authorized dealer.
Displaying the Master Access Code
To display the factory-set code in the information display: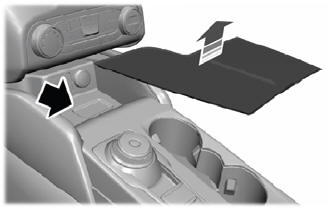 Remove the rubber mat. Insert the first programmed key in the backup slot. Press the push button ignition switch once and wait a few seconds. Press the push button ignition switch again and remove the key. Within 10 seconds, place a second programmed intelligent access key in the backup slot and press the push button ignition switch.