Ford Escape: Parking Aid - Vehicles With: Active Park Assist / Specifications
General Specifications - Front
| Item | Specification |
| --- | --- |
| Active park assist sensor azimuth system check object position 1 (P1) distance from sensor | 50 cm (20 in) ± 10 cm (4 in) |
| Active park assist sensor azimuth system check object position 2 (P2) and position 3 (P3) distance from sensor | 391 cm (154 in) ± 20 cm (8 in) |
General Specifications - Rear
| Item | Specification |
| --- | --- |
| Active park assist sensor azimuth system check object position 4 (P4) distance from sensor | 25 cm (10 in) |
| Active park assist sensor azimuth system check object position 5 (P5) and position 6 (P6) distance from sensor | 150 cm (59 in) |
Component Location - Active Park Assist Item Description 1 Rear side sensors 2 Active park assist switch 3 Front active park assist sensors 4 PAM ..
Other information:
Materials Name Specification Motorcraft® Metal Brake Parts CleanerPM-4-A, PM-4-B, APM-4-C - Removal NOTICE: The turbocharger compressor vanes can be damaged by even the smallest particles. When removing any turbocharger or engine air intake system component, ensure that no debris enters the system. Failure to do so may result in damage to the turbocharger. ..
WHAT IS FORD PROTECT Protect yourself from the rising cost of vehicle repairs with a Ford Protect extended service plan. Ford Protect Extended Service Plans - United States Only Ford Protect extended service plans mean peace of mind. Extended service plans are backed by Ford Motor Company, and provide more protection beyond the New Vehicle Limited Warranty coverage. When you visit your Ford..
Categories
Engine Oil Dipstick Overview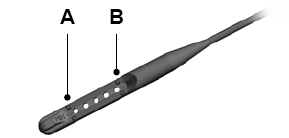 Minimum. Maximum.
Copyright © 2023 www.fordescape4.com