Ford Escape: Driver Alert / Switching Driver Alert On and Off. Driver Alert Indicators
Switching Driver Alert On and Off
Press Settings on the touchscreen.
Press Driver Assistance.
Switch Driver Alert on or off.
Note: The system remains on or off depending on how it was last set.
Resetting Driver Alert
You can reset the system by either:
Switching the ignition off and on.
Stopping the vehicle and then opening and closing the driver door.
Driver Alert Indicators
System Warnings
The warning system has two stages:
A temporary warning is issued to advise you to take a rest. This message only appears for a short time.
If you do not rest and the system continues to detect that your driving deteriorates, it issues a further warning. This remains in the instrument cluster display until you cancel it.
Note: The system does not warn you if the vehicle speed falls below approximately 40 mph (65 km/h).
How Does Driver Alert Work Driver Alert calculates your alertness level based on your driving behavior in relation to the lane markings and other factors through use of the front camera sensor behind the interior mirror...
Driver Alert – Information Messages ..
Other information:
Modem SYNC 3 ..
General Hints Note: Prolonged use of recirculated air may cause the windows to fog up. Note: You may feel a small amount of air from the footwell air vents regardless of the air distribution setting. Note: To reduce humidity build-up inside your vehicle, do not drive with the system switched off or with recirculated air always switched on. Note: Do not place objects under the front seats as..
Categories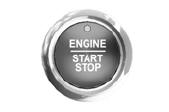 Switching the Ignition Off
When the ignition is on or in accessory mode, press the push button ignition switch once without your foot on the brake pedal.