Ford Escape: Garage Door Opener / What Is the Garage Door Opener. How Does the Garage Door Opener Work. Garage Door Opener Precautions
What Is the Garage Door Opener
HomeLink Wireless Control System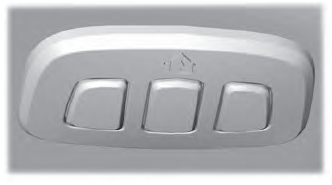 The universal garage door opener replaces the common hand-held garage door opener with a three-button transmitter integrated into the driver's sun visor.
How Does the Garage Door Opener Work
The system includes two primary features, a garage door opener and a platform for remote activation of devices within the home. You can program garage doors as well as entry gate operators, security systems, entry door locks and home or office lighting.
Additional system information can be found online at www.homelink.com or by calling the toll-free help line at 1-800-355-3515.
Note: You can program a maximum of three devices. To change or replace any of the three devices after it has been initially programmed, you must first erase the current settings.
Garage Door Opener Precautions
WARNING: Do not use the system with any garage door opener that does not have the safety stop and reverse feature as required by U.S. Federal Safety Standards (this includes any garage door opener manufactured before April 1, 1982). A garage door opener which cannot detect an object, signaling the door to stop and reverse, does not meet current federal safety standards. Using a garage door opener without these features increases the risk of serious injury or death.
Note: Make sure that the garage door and security device are free from obstruction when you are programming. Do not program the system with your vehicle in the garage.
Note: Make sure you keep the original remote control transmitter for use in other vehicles as well as for future system programming.
Note: We recommend that upon the sale or lease termination of your vehicle, you erase the programmed function buttons for security reasons.
Garage Door Opener Limitations Canadian radio-frequency laws require transmitter signals to time-out (or quit) after several seconds – which may not be long enough for HomeLink to pick up the signal...
Other information:
Materials Name Specification Motorcraft® Premium Windshield Wash Concentrate with BitterantZC-32-B2 WSS-M14P19-A Removal Remove the windshield washer reservoir. Refer to: Windshield Washer Reservoir (501-16 Wipers and Washers, Removal and Installation)...
Removal NOTE: Removal steps in this procedure may contain installation details. NOTE: LH rear door speaker shown, RH rear door speaker is similar. Remove the rear door interior trim panel. Refer to: Rear Door Trim Panel (501-05 Interior Trim and Ornamentation, Removal and Installation)...