Ford Escape: Entertainment / AM/FM Radio
Tuning a Station
You can use the tune or seek controls on the radio bezel to select a station.
To tune a station using the touchscreen, select:

A pop up appears, allowing you to type in the frequency of a station. You can only enter a valid station for the source you are currently listening to.
You can press the backspace button to delete the previously entered number.
Once you have entered the station's call numbers, you can select: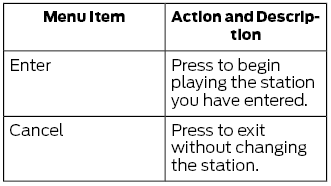 Presets
To set a new preset, tune to the station and then press and hold one of the memory preset buttons. The audio mutes briefly while the system saves the station and then returns.
You may be able to add additional preset pages using the settings option on the feature bar.
Audio source. Select to choose a different audio source. Presets. Swipe left to view more presets. You can access these options using the touchscreen or voice commands...
Note: This feature may not be available in all markets and requires an active subscription. SiriusXM satellite radio is a subscription-based satellite radio service that broadcasts a variety of music, sports, news, weather, traffic and entertainment programming...
Other information:
Selecting the Correct Fuel Choosing the Right Fuel Your vehicle operates on regular unleaded gasoline with a minimum pump (R+M)/2 octane rating of 87. Some fuel stations, particularly those in high altitude areas, offer fuels posted as regular unleaded gasoline with an octane rating below 87...
Lubricants, Fluids, Sealants and Adhesives Material: Motorcraft® Yellow Concentrated Antifreeze/Coolant / VC-13-G (WSS-M97B57-A1) Material: Motorcraft® Yellow Prediluted Antifreeze/Coolant / VC-13DL-G (WSS-M97B57-A2) Material: Motorcraft® Premium Cooling System Flush / VC-1 (ESR-M14P7-A) &nbsp..
Categories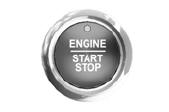 Switching the Ignition Off
When the ignition is on or in accessory mode, press the push button ignition switch once without your foot on the brake pedal.