Ford Escape: Garage Door Opener / Clearing the Garage Door Opener. Reprogramming the Garage Door Opener. Garage Door Opener Radio Frequencies
Clearing the Garage Door Opener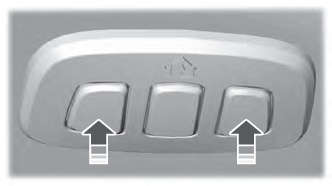 Press and hold the outer two function buttons simultaneously for approximately 10 seconds until the indicator light above the buttons flashes rapidly.
When the indicator light flashes, release the buttons.
Note: You cannot erase individual buttons.
Reprogramming the Garage Door Opener
To program a device to a previously trained button, follow these steps:
Press and hold the desired button. Do NOT release the button.
The indicator light begins to flash after 20 seconds. Without releasing the button, follow programming steps.
Gate Operator / Canadian Programming Canadian radio-frequency laws require transmitter signals to "time-out" (or quit) after several seconds of transmission – which may not be long enough for HomeLink to pick up the signal during programming...
FCC and RSS-210 Industry Canada Compliance WARNING: Changes or modifications not expressively approved by the party responsible for compliance could void the user's authority to operate the equipment...
Other information:
Removal NOTE: Removal steps in this procedure may contain installation details. NOTE: A new HCU is equipped with an ABS module. A new ABS module does not come equipped with an HCU . NOTE: The PMI process must begin with the current ABS module installed...
Special Tool(s) / General Equipment 303-1416Tool, Crank Damper HoldingTKIT-2008ET-FLM 303-1699Tool, Crank Sensor Alignment 303-465Tool, Camshaft Align TimingTKIT-1994-LMH/MH2TKIT-1994-FH/FMH/FLMH 303-507Timing Peg, Crankshaft TDCTKIT-2001N-FLMTKIT-2001N-ROW Trolley Jack Wooden Block Removal NOTICE: Do not loosen or remove the crankshaft pulley bolt..