Ford Escape: Hybrid Electric Vehicle Information / Hybrid Electric Vehicle Information – Troubleshooting
Hybrid Electric Vehicle Information – Warning Lamps

It illuminates if your vehicle has an electrical component fault or failure that causes your vehicle to shutdown or enter a limited operating mode. A message may appear in the instrument cluster display.
Hybrid Electric Vehicle Information – Information Messages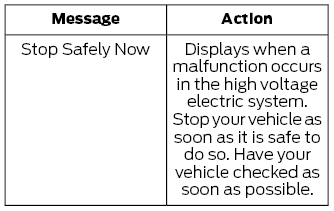 Hybrid Electric Vehicle Information – Frequently Asked Questions
How long is the high voltage battery system designed to last?
The high voltage battery system is designed to last the life of your vehicle.
Does the high voltage battery require maintenance?
The high voltage battery does not require maintenance.
What should I do if the vehicle runs out of fuel and the high voltage battery is out of charge?
Refuel and start your vehicle normally. The engine will recharge the high voltage battery.
Why does the engine sometimes start at key-on?
The vehicle's computer will determine if an engine start is required at key-on. It starts the engine when necessary for cabin heating, windshield defrost, or if the outside temperature is low.
Can I put E15 or E85 in my vehicle, and how will it affect my fuel economy?
Your hybrid vehicle can use E15 (15% ethanol, 85% gasoline) fuel, but you may notice slightly reduced fuel economy because ethanol contains less energy per gallon than gasoline. Your hybrid vehicle is not designed to use E85 (85% ethanol).
Why does it take a long time before the engine shuts down?
There are several reasons the engine stays on for an extended amount of time when you first start it. One common reason is to make sure that the emissions components are warm enough to minimize tailpipe emission. As the climate gets cooler, the engine-on time is extended.
Why does my engine stay on when it is extremely cold outside?
In order to make sure that the climate control system can begin heating the cabin or defrosting the windshield as soon as a driver requests it, the engine coolant temperature has to be kept sufficiently hot. Keeping the engine on is required to maintain the correct coolant temperature.
When you start your vehicle, a green READY indicator light appears in the instrument cluster letting you know that your vehicle is ready for driving...
What Is a Plug-In Hybrid Electric Vehicle A plug-in hybrid electric vehicle combines a gasoline engine with an electric motor and rechargeable high voltage battery allowing you to use only electricity to power your vehicle...
Other information:
Diagnostic Trouble Code (DTC) Chart Diagnostics in this manual assume a certain skill level and knowledge of Ford-specific diagnostic practices. REFER to: Diagnostic Methods (100-00 General Information, Description and Operation). Diagnostic Trouble Code Chart Module DTC Description Action DDM B1163..
What are the Alarm Security Levels You can select two levels of alarm security, all sensors and perimeter sensing. All Sensors All sensors is the standard setting. In all sensors, all equipped sensors are on when you arm the alarm. Note: Do not arm the alarm with all sensors if passengers, animals or other moving objects are inside your vehicle. Perimeter Sensing In perimeter sensing, the inte..