Ford Escape: Tire Care / Inspecting the Wheel Valve Stems. Tire Rotation
Inspecting the Wheel Valve Stems
Check the valve stems for holes, cracks, or cuts that could permit air leakage.
Tire Rotation
WARNING: If the tire label shows different tire pressures for the front and rear tires and the vehicle has a tire pressure monitoring system, then you need to update the settings for the system sensors. Always perform the system reset procedure after tire rotation. If you do not reset the system, it may not provide a low tire pressure warning when necessary.
Rotating your tires at the recommended interval will help your tires wear more evenly, providing better tire performance and longer tire life.
Note: If your tires show any uneven wear have the alignment checked by an authorized dealer before rotating tires.
Note: If you have a dissimilar spare wheel and tire assembly, it is intended for temporary use only and should not be used in a tire rotation.
Note: After having your tires rotated, inflation pressure must be checked and adjusted to the vehicle requirements.
Tire Rotation Diagram
Follow the diagram indicating the correct tire locations for rotating the tires.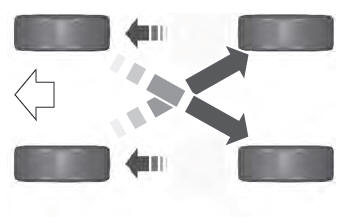 Inspecting the Tire for Wear When the tread is worn down to one sixteenth of an inch (2 mm), tires must be replaced to help prevent your vehicle from skidding and hydroplaning...
Other information:
Removal NOTICE: Under no circumstances should the accessory drive belt, tensioner or pulleys be lubricated as potential damage to the belt material and tensioner damping mechanism will occur. Do not apply any fluids or belt dressing to the accessory drive belt or pulleys. NOTE: Removal steps in this procedure may contain installation details. Refer to: Health and Safety Prec..
WARNING: You cannot open the rear doors from inside if you have put the child safety locks on. A child safety lock is on the rear edge of each rear door. You must switch the child safety lock separately on each door. Left-Hand Side Turn the key clockwise to switch the child lock on and counterclockwise to switch it off. Right-Hand Side Turn the key counterclockwise to switch the child lock..
Categories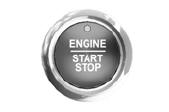 Switching the Ignition Off
When the ignition is on or in accessory mode, press the push button ignition switch once without your foot on the brake pedal.