Ford Escape: Tire Care / Inspecting the Wheel Valve Stems. Tire Rotation
Inspecting the Wheel Valve Stems
Check the valve stems for holes, cracks, or cuts that could permit air leakage.
Tire Rotation
WARNING: If the tire label shows different tire pressures for the front and rear tires and the vehicle has a tire pressure monitoring system, then you need to update the settings for the system sensors. Always perform the system reset procedure after tire rotation. If you do not reset the system, it may not provide a low tire pressure warning when necessary.
Rotating your tires at the recommended interval will help your tires wear more evenly, providing better tire performance and longer tire life.
Note: If your tires show any uneven wear have the alignment checked by an authorized dealer before rotating tires.
Note: If you have a dissimilar spare wheel and tire assembly, it is intended for temporary use only and should not be used in a tire rotation.
Note: After having your tires rotated, inflation pressure must be checked and adjusted to the vehicle requirements.
Tire Rotation Diagram
Follow the diagram indicating the correct tire locations for rotating the tires.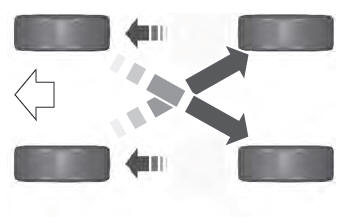 Inspecting the Tire for Wear When the tread is worn down to one sixteenth of an inch (2 mm), tires must be replaced to help prevent your vehicle from skidding and hydroplaning...
Other information:
OVERVIEW WARNING: To prevent the risk of high-voltage shock, always follow precisely all warnings and service instructions, including instructions to depower the system. The high-voltage system utilizes approximately 450 volts DC, provided through high-voltage cables to its components and modules. The high-voltage cables and wiring are identified by orange harness tape or orange w..
Materials Name Specification Motorcraft® MERCON® ULV Automatic Transmission FluidXT-12-QULV WSS-M2C949-A, MERCON® ULV Check Start the engine and allow to run for 1 minute. Turn engine off and wait 5 minutes. With the vehicle in NEUTRAL, position it on a hoist. Refer to: Jacking and Lifting - Overview (100-02 Jacking and Lifting, Description and O..
Categories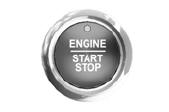 Switching the Ignition Off
When the ignition is on or in accessory mode, press the push button ignition switch once without your foot on the brake pedal.